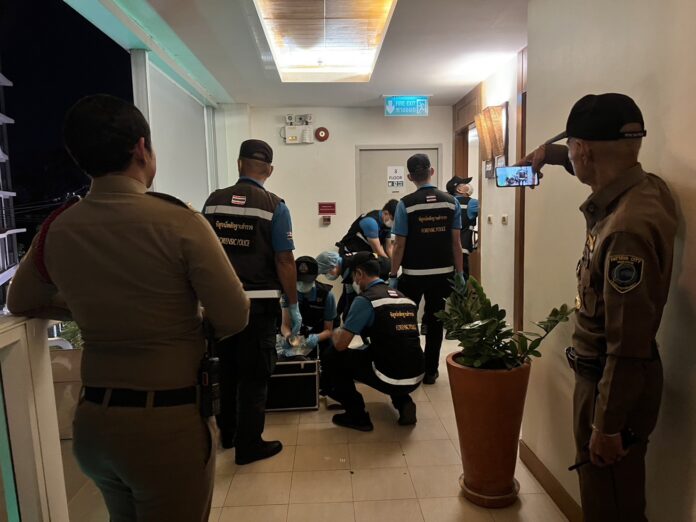 Pattaya —
An Indian man was believed to have strangled his Thai girlfriend to death in Pattaya and later jumped into a river in Chachoengsao to take his own life, according to Pattaya police. His body was found this morning.
The tragic incident transpired around 11:30 PM on November 20th. Pattaya police received a report of a murder at a hotel in Pattaya, whose name was withheld pending a full investigation, and rushed to the location along with emergency response teams and forensic officers.
There, the body of 25-year-old Jirapa Wongputtakham was found with signs of apparent foul play. Forensic officers believed that the Thai woman had died from suffocation due to a shoelace tied around her neck. Signs of struggle were evident, and scattered belongings were found at the incident scene, a room on the hotel's third floor.
Pattaya police quickly identified the suspect as 26-year-old Indian national Narendra Soni, the victim's boyfriend. According to the victim's aunt, Ms. Parawadee Saetern, 47, Jirapa and Narendra had been together for about a year, and they had arranged to meet in the mentioned hotel room to sort out their personal relationship issues.
The room was booked yesterday afternoon, and Parawadee decided to visit the room at night after suddenly losing contact with Jirapa, only to find her lifeless body beside a bed.
Ms. Parawadee went on to say that she attempted to communicate with the suspect through a video call after finding the body, but Narendra told her he wanted to take his own life by jumping off a bridge into the Bang Pakong River in Chachoengsao. He then abruptly hung up the phone and could no longer be reached.
At 8 AM this morning, November 21st, Pol. Capt. Suriya Phumwat, deputy investigator at the Bang Pakong Police Station, reported that the body of Mr. Narendra was found in the Bang Pakong River in Moo 9, Bang Pakong sub-district, Bang Pakong district, Chachoengsao. The rescue unit, in coordination with the police, used a boat to retrieve the body from the river and bring it back to the shore.
Initially, both the bodies of Jirapa and Narendra will be transported to the Police General Hospital's Institute of Forensic Medicine for a postmortem. The investigation is ongoing into the reasons for the shocking incident.
If you or someone you know is feeling depressed please reach out for help. The Pattaya News suggests the Samaritans of Thailand which can be reached here:
https://www.facebook.com/Samaritans.Thailand/