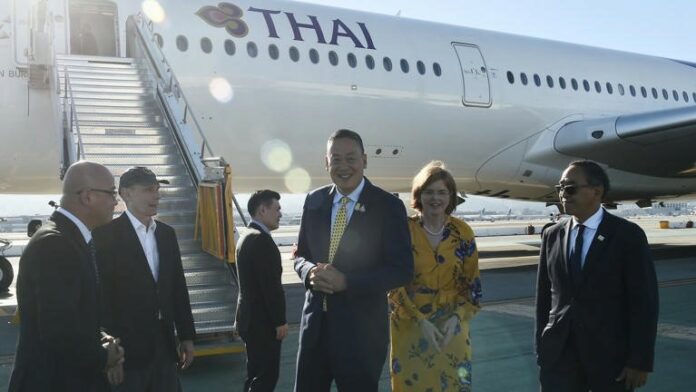 National—
At 5:00 PM (San Francisco local time), on November 17th, 2023, Mr. Srettha Thavisin, the Thai Prime Minister, held a meeting with the Thai community in the USA. The issue had been raised on a Thai Airways crisis on always making no profit and that there are no direct flights from Thailand to the USA.
"The Thai government always supports tourism such as visa exemptions in some countries as one of the fascinating destinations many tourists seek to visit. However, the Thai Airways crisis has long been an issue, especially, due to the Covid pandemic, as the airline invested a massive amount of money to survive," Srettha reportedly said.
Srettha further stated it is impossible for the state enterprise system to process and work as quickly as the public may wish as he used to work in a similar enterprise.
Srettha voiced his concern and awkwardness over the state of Thai Airways as a big issue and had always been discussing the issue with the Permanent Secretary of the Ministry of Transport.
Mr. Chai Eamsiri, the Director of Thai Airways International, publicly mentioned the statement from the Thai Prime Minister as the reason that the International Civil Aviation Organization (ICAO) has red-flagged Thailand, for over a decade after the Federal Aviation Administration (FAA) downgraded Thailand's aviation standards from Category 1 to Category 2.
"Currently, this presents an issue where Thai commercial airlines cannot fly into the United States. However, on behalf of the government, flights can be operated from Thailand to the United States," said Chai.
"To lift the red flag, the Thai government needed to rectify regulations according to ICAO benchmarks. Furthermore, Thai Airways International needs to calculate initial budgets and demands as a flight to the USA has a high cost," Chai concluded.