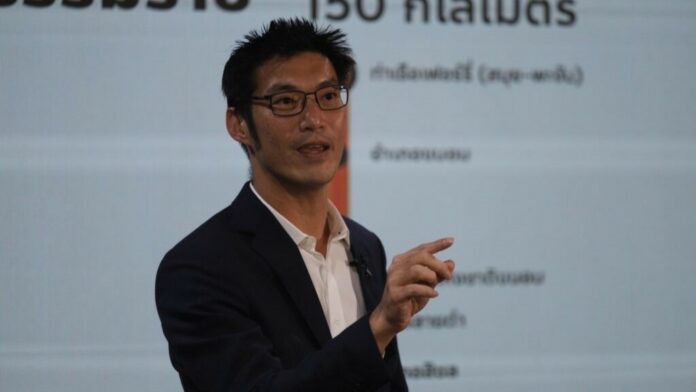 National—
On November 17th, 2023, Mr. Thanathorn Juangroongruangkit, the former Leader of the Future Forward Party, revealed to Thai national media after his speech "With 500 billion baht, What should Thailand spend it on?" regarding the new Thai government policy: A 10,000 baht digital wallet.
Thanathorn publicly said that the speech held over the past weekend seeks discussions among Thai society on a limited budget, a better choice for a 10,000 baht digital wallet policy, and would be good for democracy as well.
Thai reporters asked Thanathorn's opinion about the Thai government's 10,000 baht digital wallet. Thanathorn reportedly answered that Thailand is not in a current economic crisis, despite its slow growth, but he opposed loaning 500 billion baht to support economic growth. However, the Pheu Thai Party viewed that Thailand is currently in a serious economic crisis.
"Thinking back during the Covid pandemic in the government of Gen. Prayut Chan-o-cha, we reflect on the fact that the current government shoulders extensive levels of household and public debt. Because the former government did not invest enough in competitive advantage, which was because of the country's own capabilities. Therefore, in 5-10 years, it is necessary to invest in building competitive advantage starting today," said Thanathorn.
Thanathorn emphasized that what he said today was only an alternative to utilizing "With 500 billion baht, what should Thailand spend it on?" and he was ready to present further details and guidelines to the Pheu Thai Party.
Thai reporters asked if the Pheu Thai Party may buy the idea, it would be against the election campaign to abandon the 10,000 baht digital wallet policy. Thanathorn reportedly stated that it is probably best to speak frankly with the people as they should be willing to listen and give the Pheu Thai Party a chance.
Thanathorn concluded that it takes time to develop a project such as public transport and public health as Rome was not built in a day.