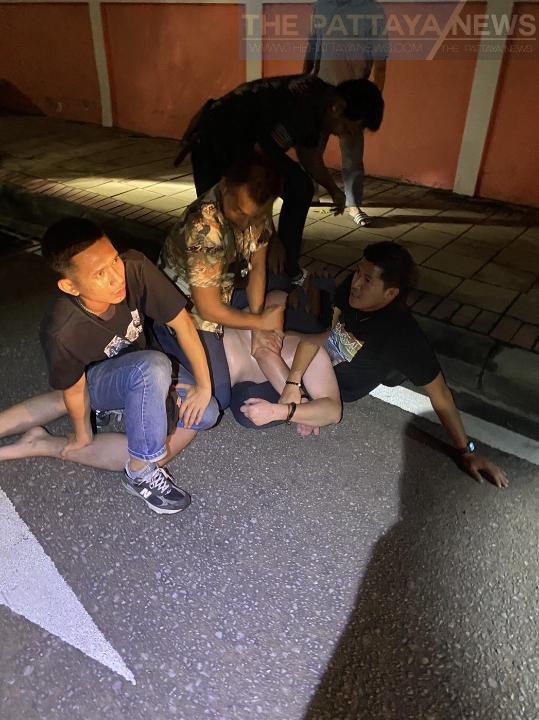 Pattaya, Thailand –
A 23-year-old Russian man was arrested last night for acting erratically while in his birthday suit, roaming public streets in North Pattaya and attacking random Thais unprovoked.
A longer video of this incident can be seen on our YouTube here.
The suspect, identified by police as a 23-year-old Russian man whose full name was withheld pending mental evaluation and treatment, was arrested on Soi Naklua 16 around 8:00 P.M. yesterday, November 7th, 2023.
The suspect was arrested by a large force of Banglamung police led by Pol. Col. Navin Sinthurat, Superintendent of Bang Lamung Police Station. The suspect was described as extremely uncooperative and appeared unable or unwilling to speak much Thai or English. He continued to threaten police, reporters, rescue workers, passerby, and doctors while being brought to a local hospital for sedation and a complete check for possible drug use or intoxication.
The suspect had been walking naked around Naklua in a state of outrage, screaming and yelling at passerby and being followed and videoed by multiple concerned citizens calling police when he randomly approached a couple sitting at a red light near Soi Naklua 16 and attacked them for no apparent reason, punching the driver, whose name was withheld at his request, in the face. A video clip of this incident is below.
At this point, multiple Thai residents nearby tackled the man and held him down until police arrived moments later, transporting him to the hospital.
The suspect was likely to face multiple legal charges, noted Banglamung police, pending a full psychiatric evaluation at the hospital and blood test for illegal drugs.
The suspect was too erratic to give a statement, notes The Pattaya News, other than threatening to fight reporters.
The following clip shows the moment the suspect attacked a couple on a motorbike, and may be disturbing to sensitive viewers and contains slight rear nudity. Viewer discretion is advised.
There have been a number of incidents in Pattaya with Russian tourists recently such as this man who fell out of a window during a recent drinking session and had to be rescued by a crane.
In another recent Pattaya incident a Russian man allegedly heavily intoxicated crashed into multiple other drivers at a Third Road intersection and refused a blood alcohol test and tried to flee.
Finally, in Phuket over the past weekend, a Russian woman killed a young American man and Luxembourg woman when she crashed into them on their motorbike at high speed in her car, possibly intoxicated.