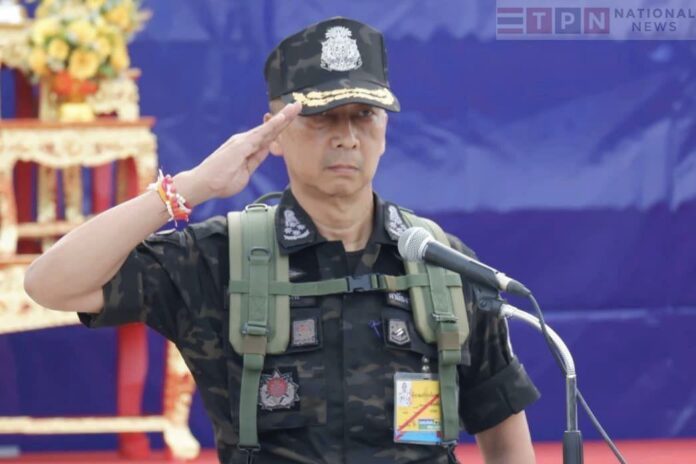 Thailand –
Police General Torsak Sukvimol has officially been appointed as the 14th Commissioner-General of the Royal Thai Police.
A meeting was held on Wednesday (September 27th) and was chaired by Prime Minister Srettha Thavisin and the Thai police commission. They officially selected Police General Torsak Sukvimol as the 14th Commissioner-General of the Royal Thai Police (RTP).
General Torsak was a deputy police commissioner and is now 59 years old. He will serve his new duty as the Commissioner-General for only one year as he is set to retire next year at the age of 60.
Police General Torsak was one of four candidates which included the Deputy Commissioner General Police General Surachate Hakparn. However General Surachate did not join in the meeting and took personal leave after having been in the news for several days regarding a police raid on his own residence. (see below)
Some politicians and netizens have asked the Prime Minister for a detailed explanation of why Torsak was chosen, who was the least senior candidate in terms of police experience, of the four, but one was not immediately forthcoming.
This article originally appeared on our sister website TPN National.
Related articles:
Thai Cyber Police and a commando unit searched a house owned by the Deputy National Police Chief, Pol. Gen. Surachate Hakparn, often called in Thai media by his nickname as "Big Joke," on Monday morning, September 25th, after they discovered an alleged link between him and an online gambling ring.
On September 25th, 2023, Pol. Lt. Gen. Voravat Watnakhonbancha, Commissioner of the Cyber Crime Investigation Bureau (CCIB), made a revelation following the search of the residence of Deputy National Police Chief Pol. Gen. Surachate Hakparn.
Thai Prime Minister Mr. Srettha Thavisin appointed an independent investigation committee on Pol. Gen. Surachate, also known as "Big Joke", Hakparn's house search by other police.
Deputy National Police Chief Pol Gen Surachate "Big Joke" Hakparn lodged a complaint with the Criminal Court on Tuesday, September 26th, seeking justice regarding the police search of his residences.