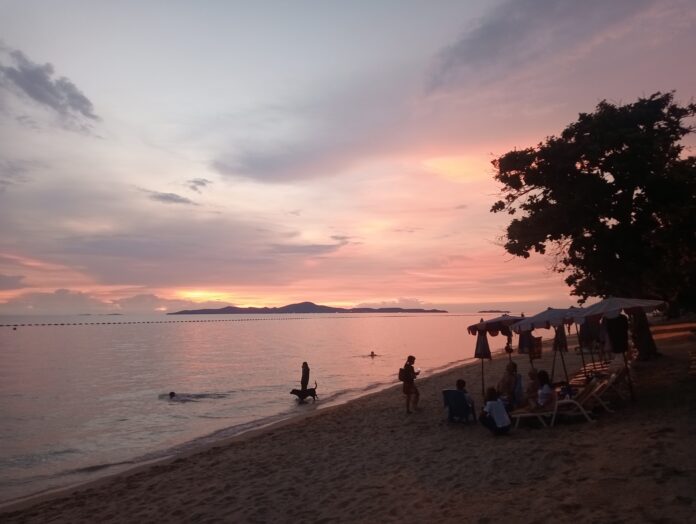 Pattaya/Jomtien– On September 22nd, 2023, Mr. Ekkarat Khantharo, director of the Pattaya regional marine department, relevant officials, and community representatives held a meeting on the ongoing Jomtien Beach enhancement project.
Mr. Ekkarat stated that the project in Phase 1 aims to enhance the overall scenery along Jomtien Beach and fix seawater erosion problems. The goal is for the beach to be a tourist attraction for relaxation and recreation purposes. In the first phase, heavily eroded areas were filled with additional sand from the Na Jomtien subdistrict to the Pattaya city area, at a total distance of 3,575 meters.
With the enhancement of the scenery, there has been positive feedback from locals, merchants, and both Thai and foreign tourists. To maintain the beautiful scenery, no private businesses are currently being allowed in the actual beach area, despite attempts from various vendors and groups to move in. The Marine Department also asked for cooperation from individuals to keep the beach clean from littering and polluting.
Mr. Ekkarat also informed The Pattaya News about the expansion of the beach area in Phase 2 during the year of 2024 with a budget of more than 400 million baht. The expansion will increase the additional area of the beach by about 2,650 meters in total which will attract more tourists and drastically promote marine tourism in Thailand.
This will bring the expanded beach to the Dongtan Beach area but is not expected to start in earnest until after the high season of 2023. There are also additional projects taking place currently such as parking lots and restrooms being installed and road widening in Na Jomtien.