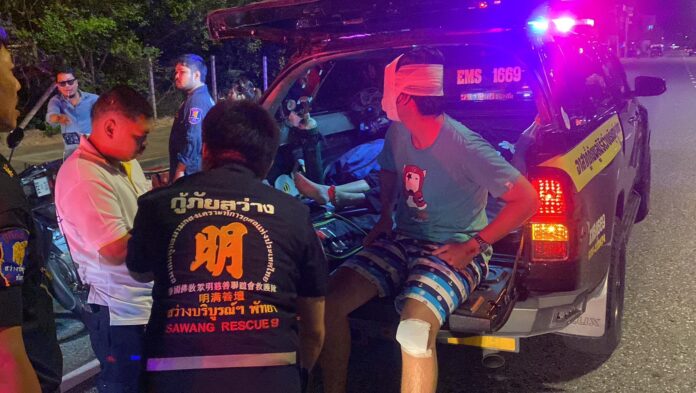 Pattaya —
Three youngsters maneuvered their motorcycles dangerously on Sukhumvit Road in Pattaya at midnight on Sunday before crashing into one another.
The mishap was reported to Sawang Boriboon emergency responders at 12:10 AM on September 17th, on Sukhumvit Road inbound to Pattaya, Banglamung district, Chonburi province. The rescuers and The Pattaya News rushed to the scene to find three young people injured.
They were identified as 18-year-old Mr. Thananop Chanpitak, 19-year-old Ms. Jirada Kimteng, and 24-year-old Mr. Narin Champahom. All three suffered various injuries. They were all sent to a nearby hospital for medical treatment.
An eyewitness to the accident, who asked not to be named, told The Pattaya News that the trio were riding two motorcycles on the road. One of them was riding erratically, swerving left and right. The eyewitness overheard the group attempting to caution each other to slow down, but they did not heed their advice. Before the collision, one rider veered into the path of his friends and crashed into them.
The three reportedly remained at a local hospital as of press time.