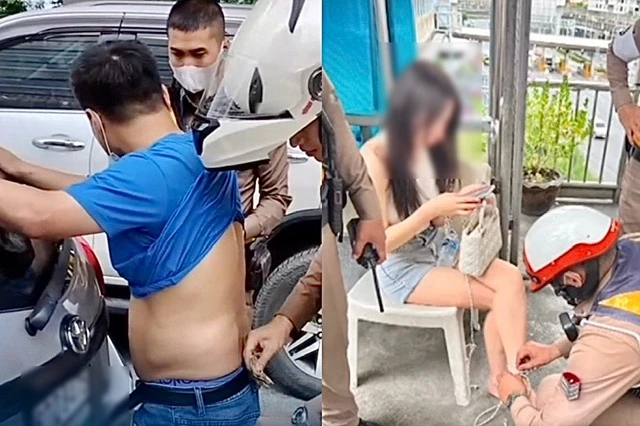 Bangkok –
A Chinese man was arrested after he detained a Chinese woman for ransom. The suspect was arrested after he got into a car accident and the victim tried to escape when Thai police arrived to file a routine accident report.
On Thursday (September 14th) the Thai Expressway Police in Bangkok told TPN media they arrested Mr. Jao U Lin, 36, a Chinese national. They also helped a Chinese woman whose name was withheld for her privacy and who was found tied up and bound by her hands and legs with rope inside the damaged car on the Phra Ram 9 Expressway.
A witness identified only as Mr. Sompong, 33, told Expressway police that a car being driven by Mr. Lin ran into his vehicle from behind while in a traffic jam. Mr. Lin said he wanted to pay cash for the damage to Mr. Sompong immediately. However, Mr. Sompong told Mr. Lin to wait for his car insurance agent to respond to a phone call and a police report. At this point, Mr. Lin became visibly nervous, according to Sompong.
Expressway Police were called and the female Chinese woman jumped out from Mr. Lin's car while shouting for help. Mr. Lin was immediately arrested.
The Deputy Commander of the Metropolitan Police Major General Nopsin Poonsawat told TPN media that the Chinese victim, 27, had told police that she had talked with Mr. Lin online on a social website for ten days before she finally agreed to meet at a Bangkok restaurant. She claims she was drugged at the dinner and woke up the next morning naked in a hotel where Mr. Lin was staying.
Mr. Lin told her that he was forcefully taking her to Pattaya for a visit and she refused, trying to leave. At this point, he bound her with rope by her hands and legs before asking her for a ransom of one million baht to release her. The Chinese woman asked her friend to transfer money to her bank account and Mr. Lin was taking her to get the money at an ATM before the car crash.
Mr. Lin was taken to a local police station to face at least one charge of detaining others and sexual assault. He did not release an immediate statement and did not speak to the Thai media.
The original version of this article appeared on our sister website, The TPN National News, owned by our parent company TPN media.