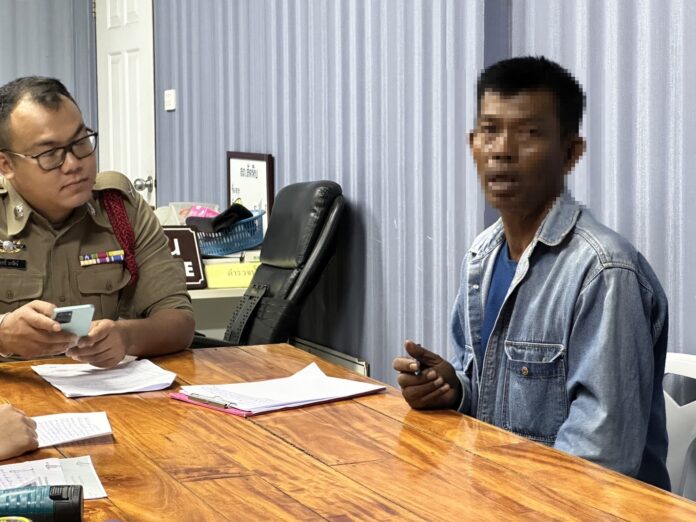 Sattahip —
On September 13th, a serial thief was arrested for robbing several local restaurants in Sattahip.
The suspect, identified as Mr. Charlie Rodmuang, 55, of Thai nationality, was arrested in Sattahip district, Chonburi province, today.
According to the police, Mr. Charlie was a serial thief who approached local restaurant owners in the district and deceived them with fake orders. He would target businesses where the owners were alone and pretended to have large orders for food.
Subsequently, the suspect would then drive the owners to the middle of a road on a motorbike, ask them to wait there, and claim that he was going to get his employer to meet them. Instead, however, he would drive back to the restaurant, steal the money and belongings, and then disappear.
According to the investigation, Mr. Charlie had committed at least three robberies in the past:
On July 3rd, 2023, he targeted a fruit shop located in the Tao Than community of Sattahip, stealing 10,000 baht in cash.
On July 20th, 2023, he robbed a coconut milk shop in Sattahip, taking 7,000 baht in cash and one mobile phone.
On September 3rd, 2023, he struck again, this time robbing an Isan (northeastern) restaurant located behind the Sahachai Market in Moo 5, Sattahip. During this incident, he stole 7,900 baht in cash and one mobile phone.
Upon further review of his criminal record, it was found that Mr. Charlie had previously served a five-year prison sentence before being released and committing these crimes again.
He confessed to using the stolen funds for personal expenses and leisure activities until they were exhausted. The police have filed charges against him for burglary, and further investigation is underway.