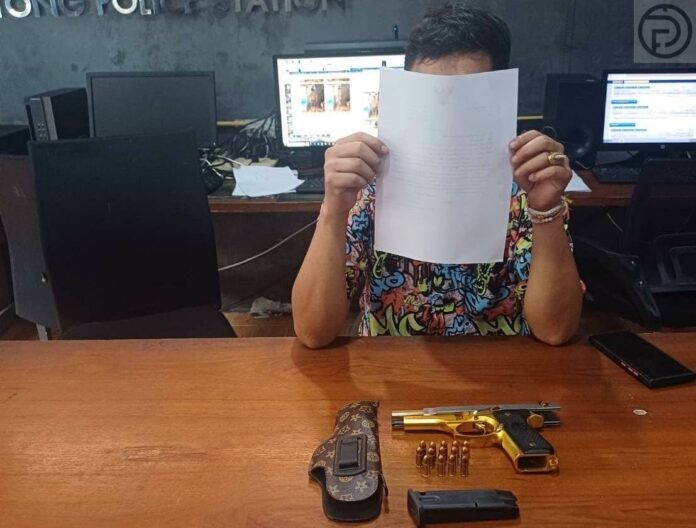 Patong –
A Thai man has been charged after he showed a gun to a Russian woman in a room at a hotel in Patong.
Our previous story:
An intoxicated Thai man was arrested with a gun after he allegedly detained a Russian woman at a hotel in Patong, however details on the incident were extremely limited.
Now for the update:
The Patong Police told the Phuket Express that a Thai man named Mr. Kittipoom Mamak went to Bangla Road in Patong before he met with the Russian woman and they hung out for a while. He asked her to go with him to a hotel where he was staying to relax and watch tv on Phra Metta Road in Patong and she agreed as at that point he didn't seem to be a potential threat. Kittipoom, who was intoxicated, then took out a gun at the hotel room and put it on a table. The Russian woman was frightened and fled and asked for help from a hotel staffer.
Police seized the golden colored Beretta handgun with 14 bullets from Mr. Kittipoom. He was charged with carrying a gun with ammunition in public without a proper reason. The Russian woman, however, did not want to take any other legal action against Mr. Kittipoom.
Kittipoom remained in custody as of press time and did not have any explanation for his bizarre behaviour.
This article originally appeared on our sister website The Phuket Express.