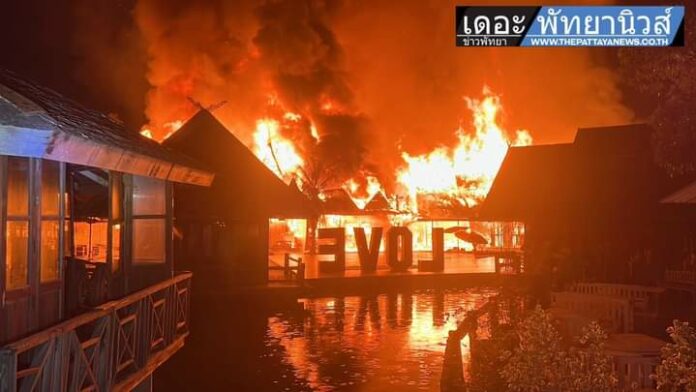 Pattaya –
A severe fire has damaged the Four Regions Floating Market in which the total cost of damages is initially being estimated of at least 50 million baht. The fire is believed to have started at a wooden restroom building. There are no significant injuries or deaths reported as of press time.
For a video of the fire from our team tap or click here.
The Pattaya City Police were notified of the fire at 8:30 P.M. on Thursday (September 7th) at the Four Regions Floating Market on Sukhumvit Road. Police, firefighters with about 20 fire engines, and The Pattaya News arrived at the scene to find the fire heavily ablaze. As of press time, the fire was largely under control although small pockets of flames and embers remained.
Staffers at the market told the Pattaya News that at 7:00 P.M., they were finishing work and were heading back to their homes. There were some sparks before the fire started in the middle of the market at the wooden toilets before the fire spread. At this stage, the cost of damages is being estimated of at least 50 million baht. Many Floating Market employees/vendors were seen by reporters desperately trying to rescue their belongings and stalls from the flames while firefighters ordered them to evacuate the market and move to safety.
There were reports of slight injuries from employees escaping the blaze, but nothing serious, according to Pattaya City officials. Some vendors reportedly jumped into the water to escape the flames and swam to safety, as the market has many canals and lakes surrounding the market areas.
The Pattaya City Mayor Poramese Ngampiches arrived at the scene shortly after the fire began and set up a command centre along with senior firefighting officials to determine the exact cause of the fire and provide support to those affected.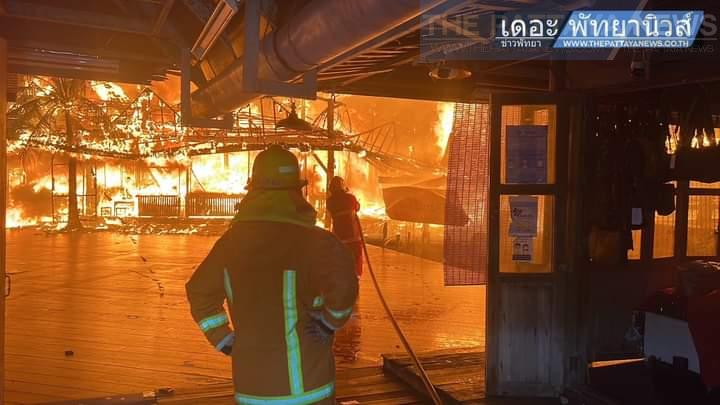 The Pattaya Floating Market is a major tourist attraction of about 60 acres in the area and comprised of four different regions, primarily composed of bamboo and wood. The market has hundreds of vendors and stalls and normally has thousands of tourists a day, mostly Asian or domestic Thai tourists. However, as the fire took place after closing time there were limited numbers of people present at the tourist attraction.
The park also contains a number of elephants who were seen being led to safety by handlers earlier in the night.
This is a developing story and The Pattaya News will provide further updates as they become available.