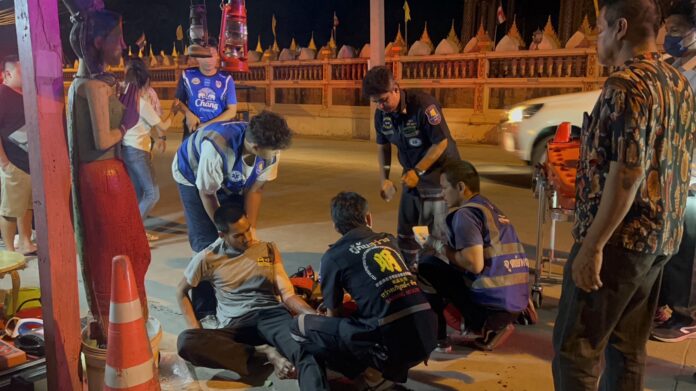 Pattaya —
A Thai man stabbed his friend in the arm who insulted his girlfriend at a drinking party on Tuesday night, August 22nd.
Huay Yai police were alerted to a violent incident in the Huay Yai area of Banglamung district, Chonburi province at 8:30 PM. They rushed to the scene after coordinating with the Sawang Boriboon emergency responders.
A video version of this story can be found here.
The authorities found Mr. Attawut Phanthong, 30, an air conditioning technician. He had been stabbed in his left arm, resulting in a serious wound and profuse bleeding. He was given first aid before being sent to a local hospital.
The victim was drinking with his friend, the suspect, identified as Mr. Somjai Thepsila, 28, also an air conditioning technician. Mr. Somjai was waiting at the scene of the incident and continuously shouted insults at his injured friend while being apprehended.
Mr. Somjai admitted to stabbing his friend, but alleged that it was because the latter had been annoyingly belittling his beloved girlfriend. He added that he had been friends with the victim for 10 years, but that he could no longer tolerate his friend's persistent insults towards his lover.
Police collected a 20-centimeter-long knife with blood stains from the incident scene as evidence.
The suspect was put into custody facing multiple legal charges.