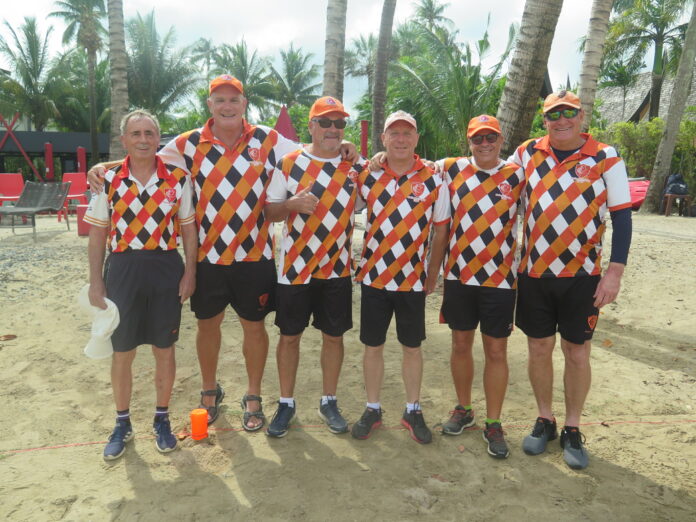 The 8th Koh Chang Beach tournament took place at the Shambala Beach Resort from 18-20 Aug 2023. Pattaya CC, last year's winners, sent 2 teams, The Stallions in the A Division and the Thoroughbreds in the B Division.
Each Division had 6 teams who played 5 round-robin matches, with the top 2 going into the Semis and Final and team points determining which prize they received. The Stallions consisted of Simon Wetherell, Jainish Parikh, Habby Rapreet, Wez Masterton (Capt), Jake Walsh, and Andy Emery, whilst the Thoroughbreds consisted of the much slower, much more mature members of PCC, namely, Trevor Moolman, Simon Philbrook, Andy Schofield, Crunch Christie, Reds Liddel and Eddie Joyner (aged 78). The A Division consisted of The Stallions, Koh Chang Hornbills, Phuket Penguins, Pangolins, British Club Swingers and Lana. The B Division consisted of The Thoroughbreds, Palma Army, Alibaba, Lamphun, Black Parrots, and British Club Masterbatters.
The local rules and scoring. 6 batsmen would each face one over of 5 balls. Each player would bowl one over and occupy each fielding position by moving clockwise at the end of each over. A run by the batsman is halfway up the wicket and back. 4's and 6's as normal. A hit into the Shambala Resort pool will be 12, and a ball that hits the tree behind the keeper will be 4. If the batsman is out, he loses 5 runs. The bowler will be penalized 2 runs for each no-ball or wide, then 4 runs and 6 runs for successive errors. There were 3 points for a win, 1 for a tie, and 1 for a losing side being beaten by less than 6 runs. 1 bonus point could be acquired for a score of 50 or more, a batsman scoring 25 or more, a bowler taking 3 wickets, a team taking 5 wickets or forcing a team to earn a minus score.
This year I will report all the activities of each team on a daily basis. Part 2 will follow shortly. The tournament started on Friday 18th with local teams and those that arrived early, whilst the PCC teams played on days 2 and 3.
PCC began their quest to retain the Cup on Saturday 19th with The Thoroughbreds playing their first match against the Black Parrots. The Thoroughbreds bowled first with Eddie and then Simon both being economical with just a few wides. Trevor had a good over against Rolf for just 1 run whilst Reds was taken on by Jeffers who smashed two big 6's but was bowled and lost 5 runs. Crunch was next, bowling to Rob whose first ball was sent to Eddie at deep mid-wicket which he dropped. 8 off the over and Andy took the last over. A 6 first ball from Slatters and then he escaped a stumping chance from Trevor. Another 8 off the over for a total of 42.
Eddie batted first and the field closed in. He hit a 6 first ball and the Black Parrots showed some respect by moving the field out. Simon found it hard to get Slatters' bouncy spin bowling away and Trevor took on the challenge. He made 12 off Rolf and the score moved to 22. Reds treated Christy in the same vein and progressed the score to 33. Crunch added 6 for no loss and 39 with one over to go. Andy S secured the victory with a 6 and a few extras to end on 47 and a win by 5 runs. A good start.
The Stallions were next against the Pangolins from Malaysia. The Pangolins had swapped their 'budgie smugglers' for dayglow green briefs – still not a pretty sight and it didn't help their cricket in this very uneven match. The Stallions bowled first and gave away 8 off the first over. Habby bowled Trouser Snake and the score advanced to 10. Andy E had Born Athlete, who appears to be a rather slow athlete, run out by Reds, and the score reduced to 6. Wez had a tidy over whilst Jake went for a few boundaries and the score was 17 with one over left. Beefy was run out twice and with extras advanced the score by 1 to 18.
A run-fest ensued with major contributions from the bat and poor fielding. Habby scored 15, whilst Andy E scored 20 which included being bowled by a No Ball. Wez was lucky to score 15 as he was dropped at mid-wicket. Jainish scored 16 in 3 balls but was bowled and the score ended on 76 and a bonus point.
There was a short break until the Thoroughbreds played Alibaba, a considerably younger team by an average of 25 years per person. The Thoroughbreds batted first and Eddie managed 8 runs from Joyce, but the Umpire, George, was reluctant to give wides. Simon managed 12 off Ricky and Trevor got 7 from the rapid-paced Terrence. Reds were hampered by George still not giving wides and the score was 31. Crunch was caught at deep square leg by Joyce off Rajan and -2 got him in the Duck Pond. He was joined by Andy S as he failed to score. 29 was not a winning score.
The Thoroughbreds made an excellent start when Joyce was caught behind by Reds off Eddie and then run out by a direct hit from Simon for a score of -4. Gaurav got Alibaba into positive territory, 1, with 5 from Simon, but it was Molin that did the damage against Trevor. 18 from the over and a score of 19. Ricky got 4 and Rajan got 7 to take the score to 30 and a lead of 1 with 1 over left. Terrence scored 5 and was caught behind by Trevor off Andy S, so Alibaba survived and Terrence went to the Duck Pond with a win by 1 run. At least the Thoroughbreds got a bonus point.
Again, a short break as the author went out to umpire a bunch of matches and returned to his notebook as the Stallions played the British Club Swingers. This was another very uneven match where the Duck Pond would be fully utilized. BC Swingers batted first with Simon W sending Ed Khan to the pond having been caught by Jake at Long-on. Jake continued the slaughter bowling Akash first ball and Habby ran him out on the last, so he went to the pond. Things got worse when Andy E caught and bowled George and then bowled him next ball – off to the pond. Raz and Ben retained their wickets but never got The Swingers into positive territory and the team finished on -4 and everyone had to go in the duckpond.
Simon W and Jake found John and Akash hard to hit but extras helped the score to 14. Wild bowling from George was met with wild swings from Wez, but it was Andy E that got the scoreboard moving with 15 runs and a score of 34. The Stallions retained their wickets and steadily made runs with 18 from the last 2 overs and reached 52. A win by 56 runs and 2 bonus points.
The Stallions were on again soon, against Lanna. This was expected to be close but it was not to be. Lanna batted first. Chris and Shine made little progress against Simon W and Jake and Jainish took a sharp catch behind as Specs swung at a wide ball. Only 11 scored at halfway. Andy E bowled a maiden and John went to play with ducks. Habby v Neville was a good contest and John managed 10 from Jainish to take the score to 25, but it was never going to be enough.
John had Simon W caught at deep square by Chris but he still managed to add 7. Wez managed to add 11, despite being run out and then caught behind by John. It was the tail that did the damage when Andy scored 14, Habby scored 15 and Jainish got 6 to bring up 57 and another bonus point win by 32 runs.
The last PCC match of the day was the Thoroughbreds versus Lamphun. The kids from Lamphun were hard to bat against and they ran like whippets across the sand, so a win was unlikely. The Thoroughbreds batted first with Eddie who was bowled 4th ball by Ton for a -3. We didn't think it was fair or wise to put a 78-year-old in the ice-cold water of the duck pond – after all, we needed him for 2 more games. Simon scored a few as did Trevor and the Reds, but nothing much. Crunch was bowled and got -3, so another visit to the pond and the score reduced to just 10. Andy S managed a few singles against Chuan, but 13 was a very poor score.
Lamphun started well when Lum got 13 from Eddie and the scores were level. Simon and Trevor were very tidy and Reds bowled Ton second ball for 1, but Lamphun was 7 ahead. The last over saw Andy S bowl Leng for 1, but it was not enough. Lamphun scored 26 and won by 13 runs in a low-scoring match.
That was the end of PCCs first day with the Stallions in the lead on 14 points from 3 matches and the Thoroughbreds well down the order.
PCC wishes to thank its followers and sponsors, the Magic Bar, the Ayen Bar, the Outback Bar, and the Pattaya Sports Group for their support which is much appreciated.