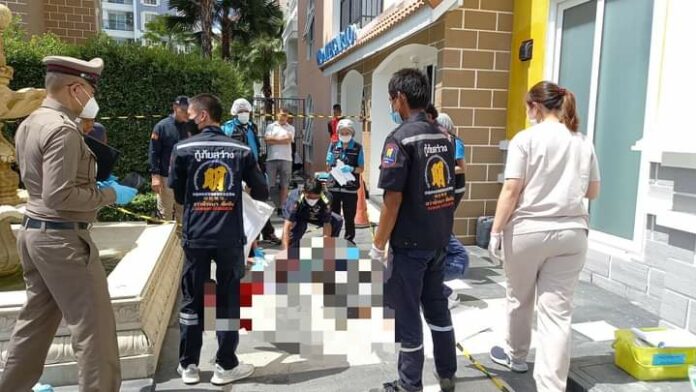 Pattaya, Thailand-
A Russian woman fell to her death this morning, August 13th, 2023, from the seventh floor of a Pattaya condo, and a Russian man who she stayed with has been detained as a person of interest.
According to Pol. Col. Wattanachai Saengrit, superintendent of the Na Jomtien Police Station and Pol. Lt. Col. Kanisorn Apisop, Deputy Superintendent, the incident happened at 7:00 A.M. today, August 13th, 2023 at a Pattaya condo, whose name has been withheld pending a further investigation.
The victim, who was identified as 32-year-old Daria (last name withheld pending further family and embassy contact) was found deceased on the ground outside of the condo near the seventh floor apartment that she had fallen from.
A Russian man, identified later by Na Jomtien Police as Fedor Oeaop, 30, was found near Daria's body in an angry and uncooperative state. After failed attempts to calm the man down he was forcibly detained by police officers at the scene led by Lt. Col Kanisorn. Police did not name the man as a suspect, however, only stated that he was being detained as a person of interest for further interviews and discussion about the incident. As of press time he remained detained at a local Na Jomtien police station and reportedly remained uncooperative towards investigative officers.
An initial review of the deceased woman and the condominium where she had stayed with Fedor did not show any immediate signs of a struggle or physical altercation but Lt. Col. Kanisorn stressed that the investigation was continuing and not final at this time. Fingerprints were taken from around the room and there were signs of recent alcohol consumption, according to Lt. Col Kanisorn. CCTV around the area would also be reviewed.
The room had reportedly belonged to Mr. Fedor, according to Na Jomtien Police, and recently Daria had filed a police report and sought assistance from Thai Immigration stating that she had lost her passport and was trying to find a way to return home.
Lt. Col Kanisorn stated that the case remained under review and further interviews with Fedor would take place but stopped short of saying if there was any suspicion of foul play or if Fedor was a suspect. At this time it remains undetermined and under review as to if the cause of the fall was accidental, suicidal, or possible foul play.