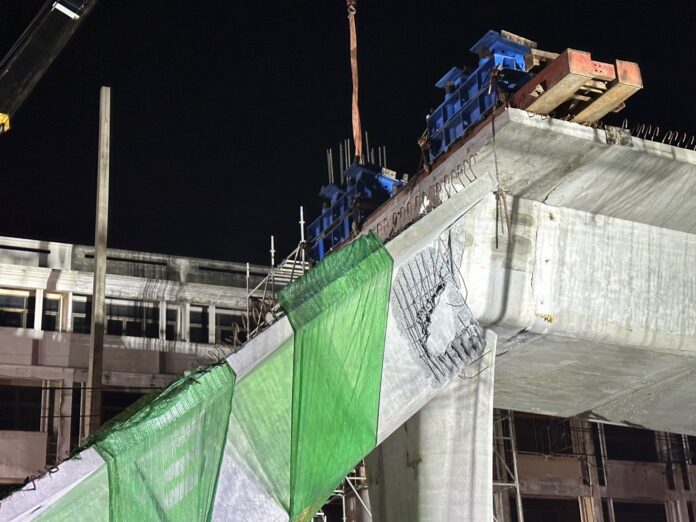 The Bangkok Metropolitan Administration (BMA) has deployed personnel to clean up the site of an overpass accident in Lat Krabang district.
The tragic incident resulted in two fatalities and left twelve others injured, all of whom are now receiving treatment at various hospitals.
His Majesty the King has graciously offered condolences to the deceased and injured, who are currently receiving medical care. His Majesty's benevolent concern for the victims and their families is profoundly appreciated.
The tragedy occurred when an elevated road under construction from On Nut to Lat Krabang suddenly collapsed. The BMA has since announced preliminary findings related to the cause of the incident. Upon investigation, it was determined that the bridge's Box Segment structure collapsed during a tension cable pull. This then caused the launcher – a blue steel structure at the very top – to lose its balance and collapse onto the bridge structure around columns 83 and 84.
The damage sustained is believed to have compromised a section of the bridge, though the exact cause must still be verified with the Engineering Institute of Thailand. The BMA will meanwhile expedite the removal of the structure in order to allow for traffic to resume, a process expected to be completed within three days.
The hiring company is registered with the Comptroller General's Department as a special-tier contractor. The contractor is required to have had previous work experience involving the construction of a similar type of structure, valued at 500 million baht per contract. Steps are being taken to further ensure that the selection of contractors emphasizes quality, with measures and qualification assessments to be enhanced.
The preceding is a press release from the Thai Government PR Department NNT