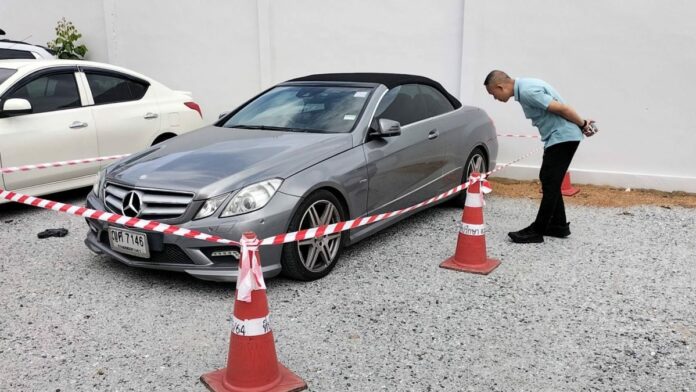 Pattaya —
A car believed to be that of a missing German man was found at a condo complex in Pattaya.
First our previous story:
A 3 Million baht reward is being offered for finding a missing man in Pattaya.
Now for our update:
Pattaya police were called to inspect a car believed to be that of a missing German businessman, Mr. Hans Peter Mack, on Sunday, July 9th. His wife and family are offering a three-million-baht reward for finding him alive and a 100,000-baht reward for finding his vehicle.
The car, a bronze/gray Mercedes-Benz, was found parked at a parking area of the CC Condo on Soi Khao Noi within the Nongprue sub-district of Banglamung district, Chonburi province.
The police officers secured the scene and coordinated with the forensic team to collect evidence inside the car. Upon inspection, the team reportedly found mysterious traces of a certain liquid that had been dripped on the seats, steering wheel, center console, gear, and windows.
The authorities could not confirm the nature of the stains at the moment but reportedly said that the stains looked as if they had been wiped off. Mr. Hans was obviously not found at the scene.
The person who first found the car was not identified and it was not immediately clear if they would be getting the reward.
According to the missing man's wife, Ms. Piraya Boonmak, 24, she said she had been together with Mr. Hans for 5 years. Her husband was a real estate businessman and had been coming to Thailand for thirty years.
Just before noon on July 4th, 2023, he drove his car and left home to meet with an unidentified foreign real estate agent whom he had recently become acquainted with. Ms. Piraya said they were discussing a land transaction on Koh Samui in Surat Thani province. However, Mr. Hans never returned home.
According to the police, the missing person was captured by a CCTV camera inside a restaurant located in Soi Thung Klom – Tan Man at 11:54 AM on July 4th. He was reportedly discussing a business matter with another unidentified man, before he returned to his car parked outside at 12:37 PM. Afterwards, he was seen driving through the Chaiyapruek Intersection towards Sukhumvit Road and heading towards Jomtien Beach.
This was the last recording of Mr. Hans.