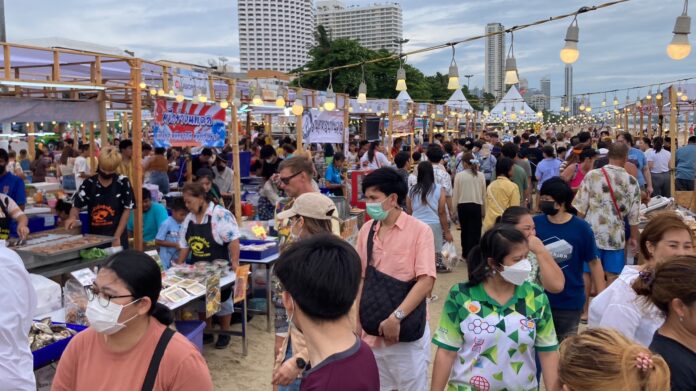 Chonburi —
The Tourism Authority of Thailand (TAT) revealed that Pattaya has welcomed as many as 2.5 million tourists so far after the country fully opened for tourism until April of 2023.
Despite being in the low season at the moment, the director of the Pattaya Office of TAT, Ms. Anoma Wongyai, told Thai media that there are still a considerable number of financially independent travelers (FIT) visiting Pattaya.
So far after Thailand fully opened its borders to tourists until April of 2023, 2.5 million people have travelled to Pattaya, 1.2 million of which are Thais and 860,000 are foreign tourists. The latter mostly consisted of Russian, Chinese, Taiwanese, Koreans, and Vietnamese.
They helped generate roughly 18 billion baht for Pattaya, Anoma said.
As for Chonburi, it has welcomed as many as 7.8 million people in total with 4.8 million being domestic tourists and 3.2 million being foreign tourists. These visitors helped Chonburi rake in over 86 billion Baht, Anoma said.
With many more events and activities on the schedule, the TAT director expects to see even more tourists visit the province in the third and fourth quarters of 2023. These include the Pattaya Marathon, Pattaya Fireworks Festival, Pattaya Jazz Festival, Seafood Festival, Bikini Beach Run, Halloween Events, and many more.