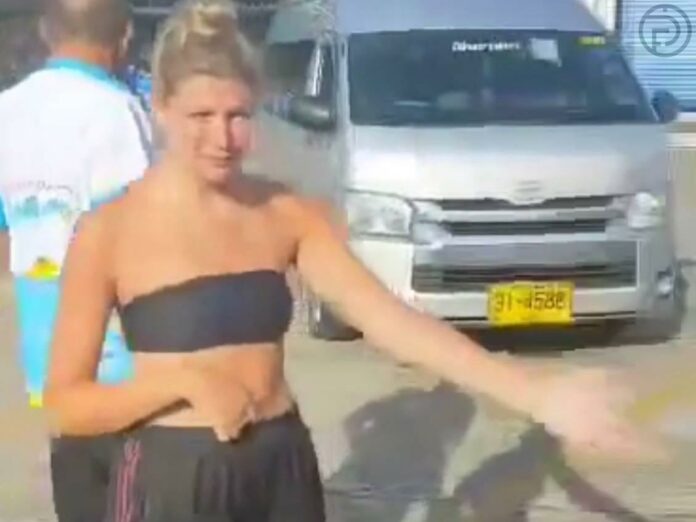 Phuket —
A lone foreign female tourist was forced out of a minivan in Phuket by drivers of other vans operating at the Phuket Rassada Port. The drivers claimed the tourist's app-hailing van driver could not pick up passengers at the port and told the tourist to drag her suitcase out of there if she intended to use app-hailing services.
The incident which was widely shared on social media and went viral happened on June 3rd at the Phuket Rassada Port in Phuket. The unidentified driver of a public minivan who posted the incident claimed that he was stopped by a group of 5-6 men as he was about to take his female foreign passenger to her destination from the port.
The driver who had required yellow license plates and operated as what he says is a legal app-hailing driver stated that the men surrounded his minivan and told his passenger, a lone female traveller, to get out of the van and drag her suitcase out of the port area if she intended to use services from app-hailing drivers.
The men had an argument with the driver claiming he could not receive passengers directly from the port. The driver tried to politely negotiate for an exception since his passenger was already sitting in the van. However, the men refused and insisted that the tourist must get on his van only after she was outside of the port area.
A heated argument went on for a while. The driver claimed that the men challenged him to a fight, but he denied it. After a while, the chief of the men showed up and allowed the driver to go along with his passenger.
The driver later stated that he was told he was not allowed for pick-ups for the app, even though his van had legal yellow plates and other transport requirements. He urged the police to take serious action against the men in the footage to restore Phuket's tourism image.The names of those involved in the incident were withheld by relevant officials investigating the incident.
-=-=-=-=-=-=-=–=-=-=-=-=-=-=-=