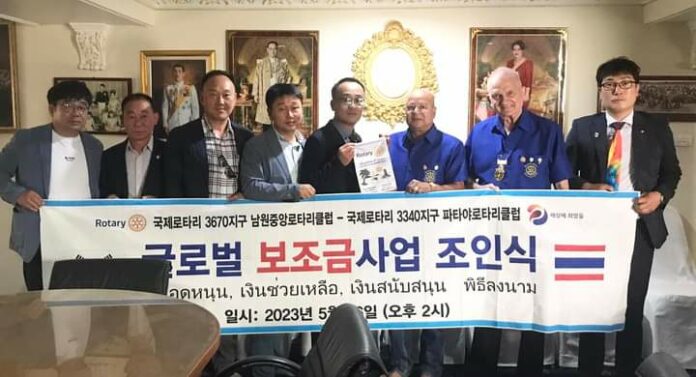 Pattaya, Thailand –

A meeting took place at the Pattaya People Media Group office building in downtown South Pattaya on Friday May 26th, 2023 between a delegation of members of the Rotary Club of Nantwon Central of Rotary District 3610 in South Korea and President-Elect Jahangir Hussain joined by Past President Niels Colov of the Rotary Club of Pattaya, the oldest and largest Rotary club in Pattaya City.

The purpose of the meeting was to create a joint community project to upgrade educational facilities in 11 Pattaya City Schools.
An agreement was signed between the Korean and Pattaya Rotary Clubs whereas the Korean Rotarians provide approximately one million baht and the Rotary Foundation of Rotary International together with the Rotary Club of Pattaya will match this donation to have a total of two million baht available for this worthwhile project, supporting the education of the young generation of Pattaya, Thailand.
More details on the execution of this project will be provided in the future as the project is rolled out.