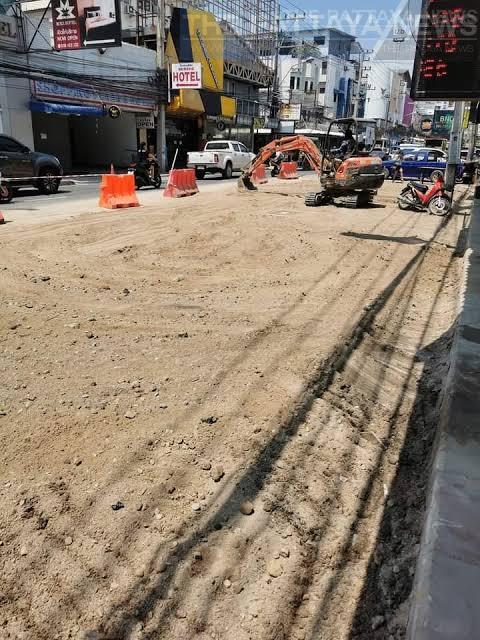 Pattaya —
A Pattaya City Council member lodged a complaint with Pattaya authorities, urging them to expedite the delayed road construction off of Pattaya Second Road and Soi 15 Buakhao, behind the Avenue Pattaya shopping center.
Mr. Bunjong Banthuprapat, Member of the Pattaya City Council, District 3, met with relevant authorities yesterday, May 24th, to inquire about the progress of the drainage system project in Soi Kaset Suwann 15, eventually connecting to Pattaya Beach Road.
The project involves excavation, installation of drainage pipes, and road resurfacing, covering a distance of 1,050 meters from Wat Chai Mongkhon Intersection to Soi Pattaya Sai 2, Soi 10, and a distance of 894 meters from Soi Kaset Suwann 15 to the Bua Khao Intersection.
While the excavation and pipe installation have been completed, and the road surface has been backfilled with soil, the contractor has not yet carried out any permanent refurbishment of the road surface, Mr. Bunjong pointed out.
Instead, temporary measures such as using metal plates to cover the unsurfaced road have been used to allow temporary passage of vehicles. Mr. Bunjong warned that these measures posed a danger to the public and tourists who traveled in the area.
Eventually, he urged the city administration to expedite the necessary actions and complete the project as soon as possible.
Accepting the council member's complain was Mr. Anuwat Thongkam, Director of the Pattaya Bureau of Sanitation Technicians.
According to him, the delayed project had encountered challenges about the underground public utility systems beneath the road surface.
He said that he expected the project to be completed by the end of May and mid-July 2023 in line with the construction contract.
TPN media notes that the construction work has been going on over a year and has been plagued with many problems.