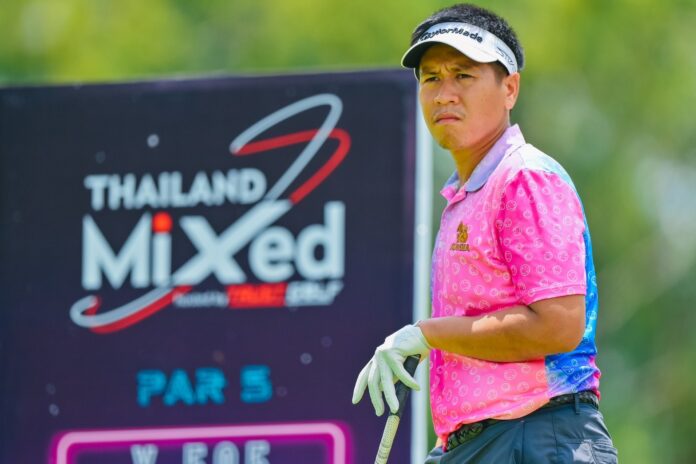 Former national player Kamalas Namuangruk seized a stroke lead after an impressive first round of the Bt3.45 million Thailand Mixed presented by TrustGolf at St. Andrews 2000 in Rayong on Thursday. 
The 30-year-old from Bangkok shot a remarkable 67, almost finishing the day without a bogey by recording seven birdies before finally dropping a shot on the ninth hole. Despite this, he grabbed a shot lead over Rattanon Wannasrichan, Amarin Kraivixien and Tawan Phongphun at the par 73 course, which measures 7,302 yards off the men's tee and 6,346 yards off the women's.
"I was putting incredibly well, making 17 putts on 14 greens. To play on this course, hitting the middle of the fairways was crucial, as any deviation would lead to landing in the woods or water hazards," said Kamalas who was a member of Thailand's SEA Games national team back in 2017. "Starting with a score of 67 was beyond my expectations as I just hope to continue playing under par each round," he added.
During the tournament, play was temporarily halted for over an hour due to unsafe weather conditions. However, this did not seem to cause much of an impact on Kamalas's game. Nonetheless, he mentioned that a bunch of tiny little bugs caused him nuisance throughout the tournament.
"Apart from the challenging course conditions, I had to fight with the bugs that kept bothering me," he said. Despite this, Kamalas remained focused on his plan of hitting the fairways and creating as many opportunities as possible, with his ultimate goal of hitting under par every day.
Former Thailand Open champion Rattanon was the only player in the top three who completed the opener with an unblemished record, carding three birdies on the front nine and three more on the back. 
"If you hit the fairways on this course, things will be pretty much comfortable, and you can choose where to aim your shots. I learned that during the practice round," said the Chanthaburi-based player. 
Rattanon also made a notable comment regarding the tournament's course, mentioning that the event features a par six hole (No. 13), marking the first time ever that a par six has been used in a Thailand Mixed tournament.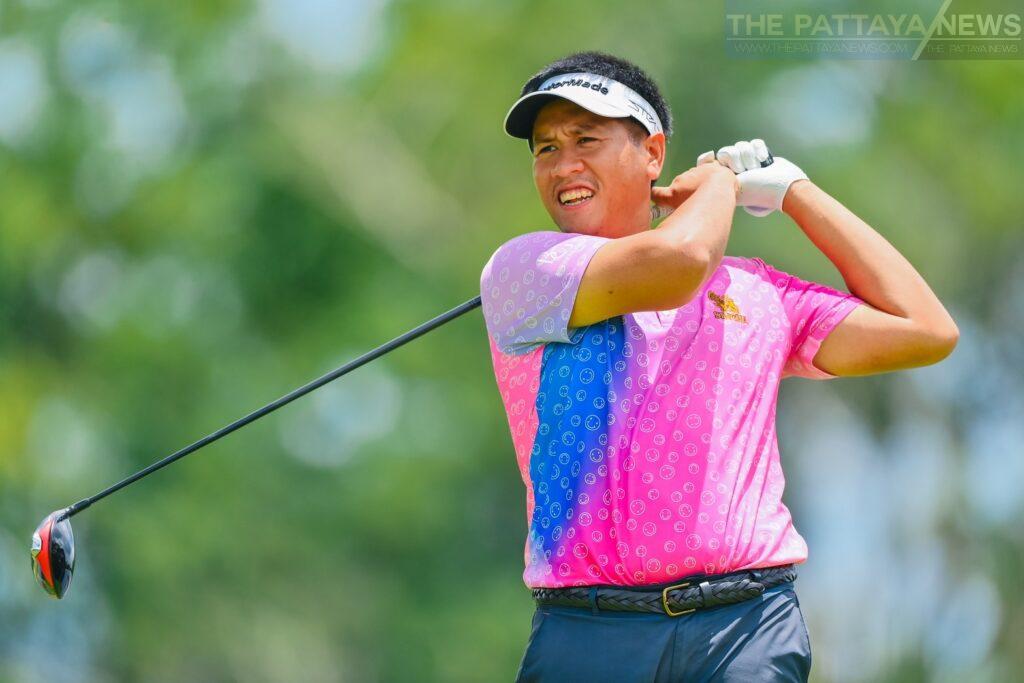 "This is a new experience for me. It which requires a long approach shot to do well on such hole," he added.
Rattanon's game plan on Friday is to hit the middle of the fairways and aim for the easiest parts of the greens. He also added that after a sluggish start to the season, he has begun to find his momentum and needs to continue competing to get into his best form.
Amarin, who recently earned his long-awaited maiden win following a victory on the Thai PGA Tour, shot an impressive 68 in the opening round of the Thailand Mixed tournament. He recorded seven birdies against two bogeys, showcasing his strong form.
"I didn't start well because I wasn't focused on my game. But things changed once I started making birdies. There's still a long way to go in the next three days. But one sure thing is that the weather condition is going to play a key role this week. Good preparation is vital as the rainy season is coming. We have to take advantage as much as possible when it's not windy. Once the condition gets tough, it will be tough to shoot scores," said Amarin whose best run on the Mixed series was a lone second at Thana City Golf Club last year.
" I don't set a particular position to finish this week as setting such a goal won't help me play better. What I'm determined to do is to execute every shot as best as I can," he said. 
TrustGolf, an indoor training center with cutting-edge technology, has been spearheading the organization of the Thailand Mixed for three consecutive years, providing a platform for male and female players to hone their skills. The tour is supported by the Sports Authority of Thailand, National Sports Development Fun, Tourism Authority of Thailand, Tourism Authority of Rayong, Bangkok Bank, B. Grimm Company, Bond Holdings, AIS Airplay, Bridgestone Golf, Trust Pharmacy, Trust Live Streaming, Adidas Golf, Balance Golf Nutrition, Leborn, LMV, Udommpanich, St.Andrews 2000 and Barcelona Valley.
…………………………………………………….
About TrustGolf
TrustGolf, an indoor training center with advanced technology, has been instrumental in supporting international golf tournaments, including the 'TrustGolf Women Scottish Open', a co-sanctioned event between the Ladies European Tour and the LPGA Tour from 2021-2025. The event garnered significant interest from leading golfers worldwide and helped promote a positive image for Thailand. Moreover, TrustGolf provided Thai female players with the opportunity to compete in this prestigious European event.
In 2023, TrustGolf is set to host five Thailand Mixed series, offering a total prize money of Bt17 million. Additionally, the TrustGolf Tour will organize the TrustGolf Asian Mixed events, tri-sanctioned by the Asian Tour, Ladies European Tour, and TrustGolf Tour, with a total prize money of US$1.5 million. The TrustGolf Link Series will also serve as the Access Series for the Ladies European Tour and include the TrustGolf Women Scottish Open, with a prize money of US$2 million."