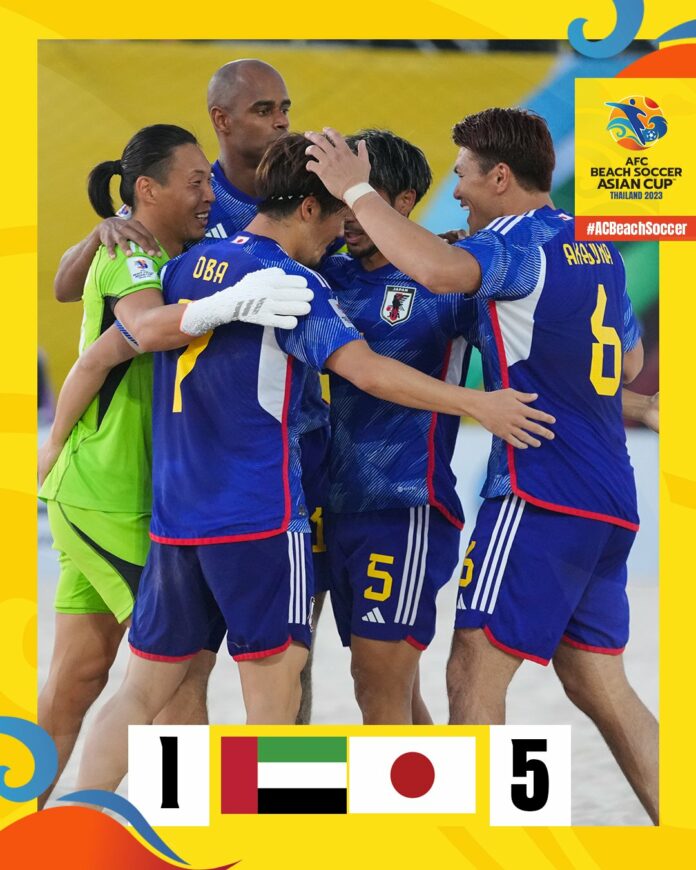 Pattaya, Thailand-
Today, March 26th, 2023, Iran vs. Japan takes place on Jomtien Beach near Soi 12 at 830 PM in the AFC Beach Soccer Asian Cup Final.
Oman and UAE will face off for third place at 630.
Admission is free but organizers advise to get there early as the final is likely to be well attended. Traffic in the area will be significant on Jomtien Beach Road, through traffic should avoid the area.
The tournament has been a thrilling addition for tourism on Jomtien Beach and the Pattaya area. Thailand managed to make it to the quarter finals before being eliminated by the UAE but their first ever quarter finals appearance was well received and the team left with their heads held high.
The top teams in this tournament move on to the FIFA World Beach Soccer Cup. Japan, as defending champions, are favored to win the tournament but Iran is a solid threat and the two teams have met each other in finals of futsal previously and have a long rivalry.
Both teams have a strong fan base that have attended recent games and the final should be an exciting and energetic affair with a passionate crowd right here in Jomtien, Thailand!
Meanwhile, Pattaya City officials have said the event has significantly assisted in building the reputation of the area as a world class sports tourism destination and the event has received near universal praise from participants and fans alike.