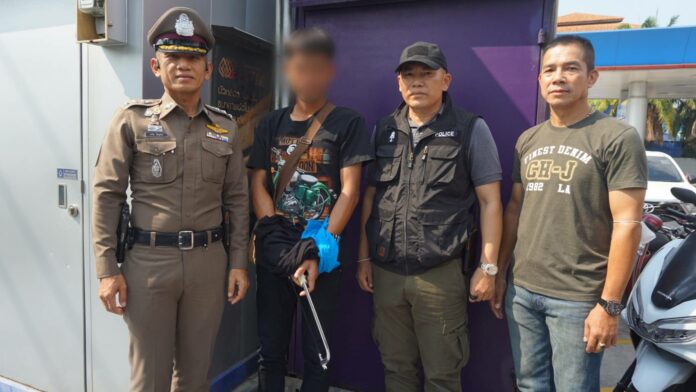 Pattaya —
A 31-year-old Thai man was arrested red-handed while trying to steal money from an ATM at a Pattaya gas station. The suspect alleged he was suffering from financial struggles from "partying".
The gas station is located on Sukhumvit-South Pattaya Road in the Nongprue sub-district, Banglamung District. Pattaya Police swooped in on the suspected ATM thief, Mr. Wasan Kerdmongkol, 31, after being contacted by a Good Samaritan on Wednesday, February 22nd.
Wasan from Chaiyaphum province was nabbed red-handed while trying to open an ATM with prying tools, including steel-cutting pliers, a crowbar, and safety glasses.
The suspect did not attempt to elicit sympathy from the authorities as he bluntly confessed that he poured all of his money into partying in Pattaya and now had no money to pay rent, adding he only arrived in the resort city a week ago, Pattaya Police told The Pattaya News.
The alleged thief also claimed it was his first time stealing.
The ATM was slightly damaged, police said. The suspect was arrested and was in police custody, pending legal proceedings.