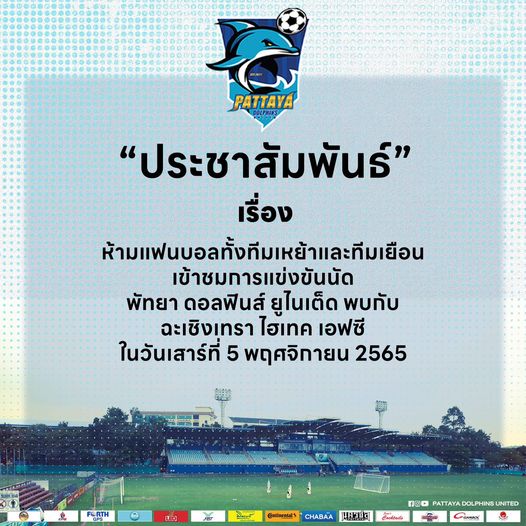 Pattaya, Thailand-
Fans have been banned from the next Pattaya Dolphins game vs. Chachoengsao in Nongprue and games will be played behind closed doors due to concerns about possible repeat incidents stemming from an almost year-old brawl between fans of Chachoengsao and Pattaya.
The incident took place on January 23rd, 2022 in which fans of both teams got into a brawl, with four Pattaya supporters injured, one with a severely broken arm. Pattaya Dolphins United filed a police report, claiming that Chachoengsao fans started the fight by attacking their fans. However, Chachoengsao fans claimed that Pattaya fans instigated the fight.
Both teams were ultimately punished with 100,000 baht fines and other punitive measures by the Football Association of Thailand Disciplinary and Etiquette Committee, led by Police Lieutenant General Amnuay Nimmano, regardless of conflicting statements of blame.
However, the committee has ruled that out of safety and punitive concerns, the game versus Chachoengsao this November 5th will not be open to fans. Under league regulations, a violation DOES ban fans from games where two teams had an altercation, but only during a single season against that team, so the decision to continue the ban into the current season has been seen by many fans as unusual.
The reaction on social media, notes TPN, has been almost universally negative, with fans of both teams criticizing the committee and their decision, with some threatening to not attend any more games based on the ruling.
Here is the announcement, in English, from Pattaya Dolphins United:
Official Announcement
The Disciplinary and Etiquette Committee has penalized and prevented another violent incident. therefore informed the Pattaya Dolphins United Football Club to publicize that In the Kongsalak Plus Thai League 3 season 2022/23, Eastern Zone, Match 9 between Pattaya Dolphins United and Chachoengsao Hi-Tech FC on Saturday, November 5, 2022, at 18:00, Nong Prue Municipal Stadium.
Fans of both clubs are forbidden from attending the game in this match.
Pattaya Dolphins United Football Club asks for cooperation and apologizes to all football fans for any inconvenience caused.