Nakhon Panom –
More than 300 community enterprises in Thailand are still, officially anyways, unauthorized to plant cannabis and hemp due to the legal gap in cannabis decriminalization.
Dr. Yothin Chaithongyot, President of the Community Enterprise Network in Ban Nong Sang of Nakhon Panom province, revealed to the press that his community enterprise was the only enterprise in the region, and presumably, in Thailand, that was legalized to plant marijuana under a signing agreement with the Research Center of Prince of Songkla University to deliver leaves, inflorescences, roots, and stems for research, mainly for medical production.
The local enterprise in Renu Nakhon district was permitted to possess and plant cannabis seeds under license according to the announcement of the Ministry of Public Health in May 2019, considered as the only enterprise in Nakhon Phanom province and in Thailand that is technically legally allowed according to the procedures.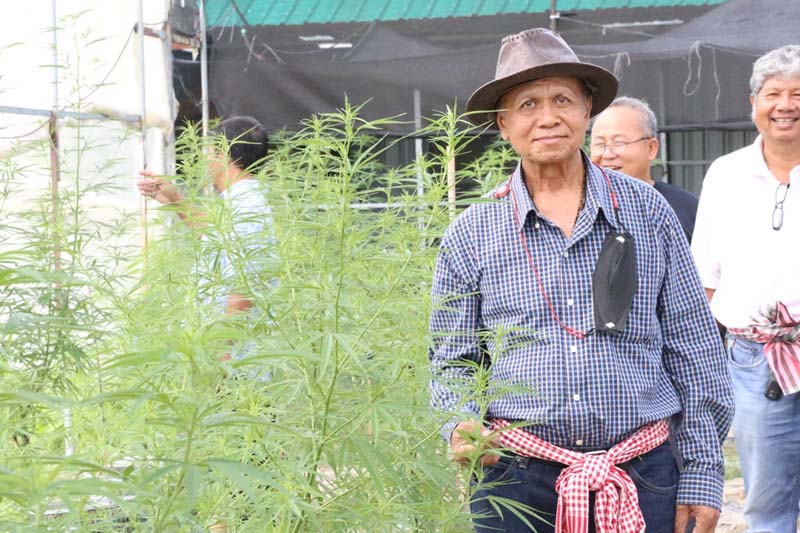 Dr. Yothin stated: "According to the study of the data, it was found that there were more than 300 unauthorized community enterprises that were not legally supported in Thailand. Of that, about 100 were found in Nakhon Panom. Some establishments were already building a greenhouse, planning planting areas, and plot planting for the plantation, but unfortunately, officially, they couldn't grow any because it's still illegal."
The President also commented that the withdrawal of the Cannabis and Hemp Draft Act had caused a tremendous effect on enterprises as unlicensed marijuana growth, even for medical purposes, is considered illegal. This also includes homegrown cannabis as well, according to his statement.
He added: "This is a mistake by the legislative administration, including related agencies, who announced unclear and loose statements during the first state of the decriminalization. They let the farmers plant them on their own with no government support or guidance. Eventually, it was just an ideal project by the government that ended up a burden to the people."
"Therefore, I'd like the government to seek a solution for the people as soon as possible, helping the community enterprises to gain permission to grow as well as local residents and villagers for their home plantation. They are enduring a lot of costs and loss for investing on the plantations because of the law gap and unclear government announcements." Dr. Yothin concluded.
-=-=-=-=-=-=-=-=-=-=-=-=-=-=–=–=–=–==-
Need Covid-19 insurance for your next trip to Thailand? Click here.
Follow us on Facebook
Join us on LINE for breaking alerts!