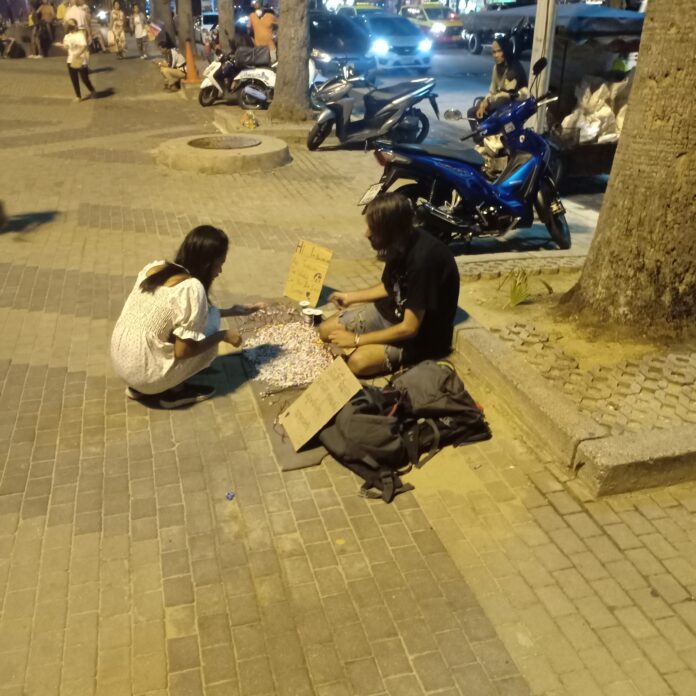 Pattaya, Thailand-
Viral photos, included in this article, of what appears to be a young foreign man sitting on Pattaya Beach Road with beads and signs offering to sell them for one baht to fund his travel around the world have driven fierce debate on social media.
The trend, which was common before Covid-19 but has been rarer in recent times, has been called "begpacking" by many. Essentially, it means that one is looking to either beg or sell small items, like the individual seen on Pattaya Beach, to fund their travel around the globe.
In this particular case, the unidentified, young, long-haired foreign man was sitting not far from Mike's shopping mall on Pattaya Beach in the evening of September 12th, selling one baht beads and necklaces. Signs asking to help support his travel were placed near him in Thai and English.
So-called "begpacking" has always driven polarizing opinions and diversity of thought with one branch of thought saying that those doing it generally don't harm anyone and keep to themselves. Another branch of mind, however, says that those doing this are often breaking local laws around working without work permits or begging illegally. Yet another mindset says that they believe that anyone traveling should have substantial funds for themselves and health insurance in case of problems.
Regardless of the mindset, as borders reopen and people begin to travel once again after the Covid19 pandemic government's and local leaders will once again have to ponder how to, if they do so at all, deal with this potential issue. What do you think? Tell us in the comments below.