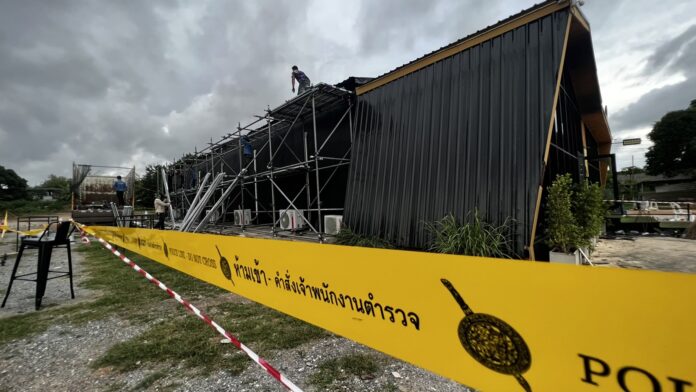 Pattaya Thailand-
The owner of a nightclub where a fire last week killed fifteen people and injured dozens was released on bail this afternoon, August 8th, 2022.
Pongsiri Panprasong, 27, known by his nickname of Sia B, the owner of the Mountain B nightclub where fifteen people died in a tragic fire last week, was released on 300,00 baht bail this afternoon around 3:00 P.M, August 8th, 2022.
As part of the condition of his bail he must wear an electronic monitoring bracelet and not tamper with evidence. He must also make multiple court appearances. In granting the bail the court noted that Sia B turned himself in, admitted to the charges laid before him, promised responsibility, and was fully cooperative with the court.
Sia B is currently charged with operating a club without a proper license and reckless endangerment that led to death.
His wife, Anongnat Panprasong, 31, told the press that rumors that her husband was a goat and being sacrificed by other "secret" owners or investors associated with the venue was false and her husband was the sole owner and took full responsibility. This follows widespread chatter on social media from netizens, without concrete proof or evidence, claiming Sia B was a sacrificial goat for other individuals.
Sia B expressed remorse for the victims in brief statements to the press while leaving court and stated he was fully accountable and responsible and would financially support the victims.