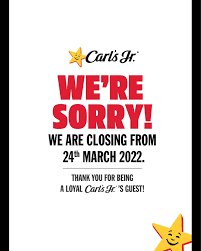 Pattaya, Thailand-
  The familiar sight of the 3rd floor Carl's Jr. in Pattaya at Central Mall, with its open-air seating area and a hangout for local teenagers at times, is shutting down.
We briefly addressed this on our social media groups recently, however, wanted to make a short article further addressing the shutdown of the burger chain, which was especially popular with foreign tourists and visitors-who are still notably in short supply.
According to R&R Restaurant Group, which owns the rights to run the six restaurants in the chain in Thailand, the reasons for shutting all locations and pulling out of Thailand is now a somewhat familiar story, following A&W only weeks before=Covid-19.
Specifically, the chain is highly reliant on imported ingredients which have become much more expensive and difficult to get since Covid-19 due to border restrictions and reduced transportation.
Additionally, a severe lack of foreign tourists for two years, a staple of the restaurant, put the writing on the wall so to speak. The clues had already been in place for some time, to be fair, with social media accounts of Carl's Jr. in Thailand rarely, if ever, updated since the middle of last year.
According to R&R Restaurant Group, the chain did all it could in 2021 to keep the restaurants afloat but recently only one location in Bangkok and the Pattaya location, which had remained fairly popular and relatively successful despite the difficult times according to R&R, were still open. A location in Terminal 21 Pattaya, opened not long before Covid-19 when the chain was still doing well, has been closed for some time.
Unfortunately, the decision was then made to close the final two locations and completely pull out of Thailand. Some readers may wonder why this is happening now, as things appear to be relaxing, but according to R&R Restaurant Group, they are still concerned that restrictions have not eased fast enough and that it will take significant time for both tourists to return in large numbers and for import prices to be reduced on needed ingredients.
The announcement on social media led to mixed reactions, with some readers sorely missing the chain, some having no idea what it was, and some saying they wouldn't miss it at all as it wasn't their particular taste. Regardless, Carl's Jr, effective on March 24th, will become a thing of the past in Thailand…indeed, if you want to visit in the last few days they are open be aware that many menu items are not available as they begin to prepare for closing.