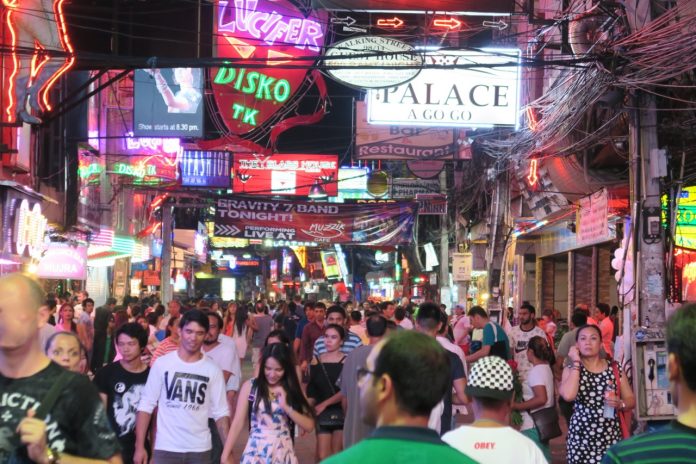 Pattaya, Thailand-
  Yesterday, the 14th of March 2022, at Pullman Hotel Pattaya, Mr. Thanyawat Kamolwongwat, a Pattaya council member and a spokesman for the committee of children, youth, women, elderly, disabled people, ethnic groups, and LGBTQ groups, took a role as a chairperson to open the "Prostitution Law: Amend or Revoke?" seminar.
The event was observed by Ms. Thitilak Khampha, Deputy Governor of Chonburi Province, and Mr. Banlue Kullawanit, Deputy Mayor of Pattaya, and attended by dozens of relevant agencies, including those in the adult industry and sex worker activists.
The objective behind this seminar was to raise the issues of the enforcement of the Prevention and Suppression of Prostitution Act of 1996 in order to illustrate solutions to the law and to receive opinions that will pave the way to fix its enforcement and make it more reasonable in the future, according to those attending.
For a long time in Thailand prior to 1960, prostitution had been in the light and accepted by law and society, but due to the expansion of tourism, economy, community, and politics, many problems had spurted from prostitution in which Thailand agreed to follow and conduct a law known as the Prevention and Suppression of Prostitution Act of 1960.
However, this law was later revoked and re-enacted as the Prevention and Suppression of Prostitution Act of 1996. Primarily, it is used to prevent prostitution with penalties for offenders, but since it has been active for a long time, many problems started to arise; for example, the penalty for offenders is too broad which prompts difficulty in the law interpretation, and the court also allows the penalization of being a contact person or a persuader for prostitution only if there was an agreement. This later becomes a problem for sex workers being lured into arrest and prosecution which stigmatizes sex workers as criminals and violates human dignity, security, and basic human rights, according to activists for sex workers who want to repeal or amend the law.
Over 70 participants from the government agency, civil society organizations, and sex worker activists had come to this seminar to discuss this issue.
This is a "first step" according to sex worker activists to destigmatize and decriminalize sex workers in Thailand. The findings of the meeting, which appeared to mostly support easing restrictions, laws, and rules around prostitution and sex work, will be forwarded to relevant government agencies in the future.
TPN notes that, officially, according to the Thai Government, there is no prostitution in Thailand but in reality, according to sex worker activists, tens of thousands of people willingly choose to work in this industry and need further protection and to stop treating them as criminals.
Prior to Covid-19, sex worker foundations like Swing or Empower have said Pattaya alone had as many as 30,000 sex workers during peak season. Government officials, of course, famously have stated there were none. In reality, those at yesterday's seminar say all sides need to come to terms with the actual situation and discuss actual solutions together versus pretending sex work doesn't exist.
=-=-=-=-=-=-=-=-=-=-=-=-=-=–=–=–=–==-
Don't forget to subscribe to our newsletter and get all our news delivered to you in one spam-free daily e-mail Click here! OR, enter your e-mail below!