Nakhon Nayok –
More than 60 police officers from the Anti-Corruption Division raided five temples in Nakhon Nayok, Nonthaburi, and Bangkok this morning, February 18th, to examine an alleged temple-subsidy corruption in the National Office of Buddhism.
The main investigation was at Khao Durian Temple in the Mueang Nakhon Nayok District, where the abbot and Nakhon Nayok's deputy primate (a prominent administrative and senior role) Phra Sitthiworanayok or 'Chao Khun Jack' was staying. The police then began the examination following the search warrant and took Chao Khun Jack to the provincial police station for further questioning.
Meanwhile, another group of police inspected and took 11 related monk abbots from local temples in the province for interrogation at a local police station.
The raid followed an official investigation of the temple-subsidy budget of the Office of Buddhism during 2007-2016 in Nakhon Nayok. The investigation revealed many financial abnormalities which were later deemed, according to police, as corruption. The police then went to investigate the allegations.
The officials also found that the National Buddhism Office former director Nopparat Benjawattananan, who was wanted under an arrest warrant for temple-subsidy fraud and on the run, had allegedly cooperated with Chao Khun Jack and several abbots of local temples to commit subsidy corruption from Buddhist schools that had been approved in 12 temples, worth about 123 million baht.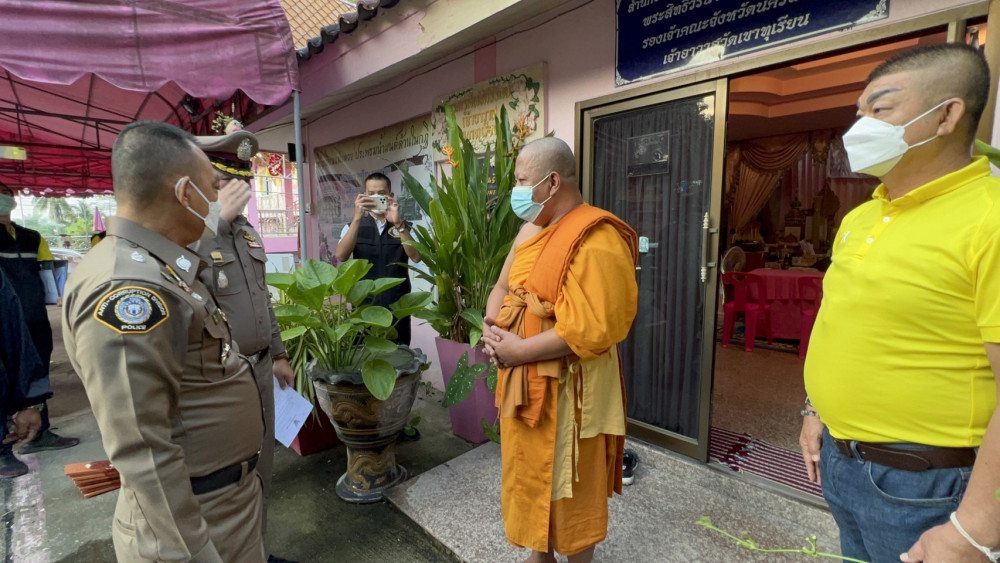 After the abbots received the subsidies from the schools' donations, they would reportedly withdraw the money and bring it to Chao Khun Jack. He would reportedly allocate only little bit of money to the temples, claiming that the rest must be given to Buddhist Office to as a donation for other associated temples that were in need of the budget. A total amount of over 110 million baht was reportedly kept and shared with the Office's former director.
According to the police reports, both Nopparat and Chao Khun Jack also reportedly spent some of the subsidies on buying 10 rais of land from close villagers in the province, worth about 18.6 million baht, under the names of their family members as owners to cover up the conspiracy.
Upon the raid at Chao Khun Jack's cubicle, several bottles of alcoholic beverages and beers were found chilled in the fridge. Packs of unused condoms were also found on a shelf next to his bed. However, he claimed that the drinks were for a votive offering that had been stored long time ago and the condoms were his attendant's, claiming he didn't use either, which would be an offense against Buddhist rules for monks. The police then collected them as evidence before taking the abbot for further investigation.
Photo Courtesy: Post Today
-=-=-=-=-=-=-=-=-=-=-=-=-=-=–=–=–=–==-
Need Covid-19 insurance for your next trip to Thailand? Click here.
Follow us on Facebook
Join us on LINE for breaking alerts!