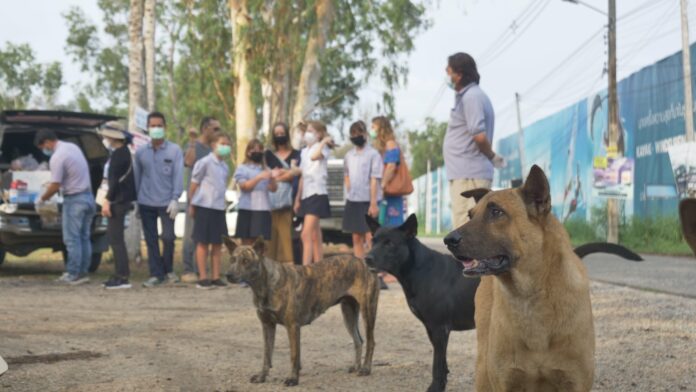 Na Jomtien/Pattaya-
  The Animal Army Foundation, who is a registered Foundation in Thailand and licensed veterinary clinic and whose primary focus is the lifesaving medical care of homeless street animals sterilized and vaccinated roughly 60 stray dogs in the Pattaya area over the weekend with the help of the local community, including a local school.
–=-=-=-=-=-=-=-=-
 60 DOGS (3 TVT) + 1 CAT NAJOMTIEN
RABIES RED ZONE STERILISATION & VAX TALLY
Today was a really tough day, with some tricky catches. Our dart ninjas managed to apprehend 10 very clever dogs. That brings our total to 60 dogs (over the weekend), 3 of which need chemotherapy for TVT and 1 dog with a large hole in the head.
"ARMY APPLAUSE"
ST ANDREWS GREEN VALLEY SCHOOL
Students from St Andrews Green Valley School raised another 4,000฿ from homemade cookie sales, for the Najomtien mass sterilization and vaccination project in the rabies red zone.
Their tremendous efforts were rewarded by the School, with a field trip to witness the results of their hard work in action. Liva, Alice, Odette, Jaidee, and Zita visited ground zero while dart teams caught unsterilized and unvaccinated animals. It was an absolute privilege to invite these kids to the site, who worked so hard to protect our street friends.
Thank you St Andrews Green Valley School for helping the next generation to develop social awareness and encourage responsible change for a kinder future.
-=–=-==-=-=-=-==–=-

We need more supporters to help treat dogs in rabies red zones. Please make a donation or share, together we are stronger!
Need Animal Army in your area?
Contact us for sterilization and vaccination assistance. Please, support this invaluable work and donate!
Animal Army Foundation
Kasikorn Bank
ACC: 081-8-61790-9
PromptPay: 085 093 5954
Photos and Text courtesy Animal Army Foundation Pattaya