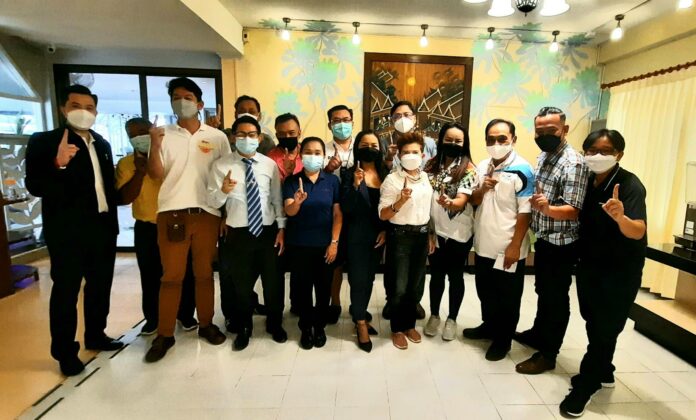 Pattaya –
The 'One Voice Pattaya' group hosted a meeting with numerous public and private business and tourism associations yesterday, February 12th, to discuss the launch of the 'Pattaya SHA Plus City' as well as organizing events and parades in April for a planned "reopening" of the city, including a full opening of the nightlife and entertainment sector.
 The group previously met about two weeks ago around the same issues, which you can read about by clicking on this text here.
The meeting of more than 24 associations, led by One Voice Pattaya Chairman Pasin Jirapaphong and TAT (Tourism Authority of Thailand) Assistant President Krit Chiramongkol, mainly mentioned ways to reopen the Pattaya City as a tourism pilot area to welcome tourists with safety, primarily talking about protective Covid-19 measures such as the setting up of ATK (Rapid Antigen Covid Tests) checkpoints under the cooperation with the SHA (Safety and Health Administration) PLUS CITY system following the TAT's guildelines in order to fully operate as a tourism city.
In layman's terms, TPN notes, the meeting was covering ways to "meet in the middle" with authorities to allow a "full" opening of nightlife and entertainment in Pattaya, officially closed since April of 2021. In the meantime, venues have been allowed to open as temporary "restaurants" but with many rules and limits, including what business owners call a "too early" closing time of 11:00 P.M. (which pre-Covid was 3:00 A.M. for entertainment areas like Walking Street or LK Metro), a ban on dancing, singing, pool, nightclubs, and other measures that limit the cities world-famous nightlife scene.
Dusit Chantracha, Vice President of Chonburi's Pharmacists Association, stated that the government's "Mor Prompt" system had issued a 72-hour test certificate of the ATK testing which helped increase the result efficiency and build public confidence before any reopening.
He also assured that local pharmacists participating in the 'Pattaya SHA Plus City' would stand by at testing checkpoints for consultation and were ready to be a part of the project to help the city reopen safely and smoothly.
TPN notes that the proposal of checkpoints and what exactly this means was still unclear. Technically, Chonburi requires by current orders an ATK test to be conducted before entry to any converted "restaurant" (bar) within 72 hours for patrons, although enforcement and compliance are mixed. The proposal seems to suggest, which has been suggested previously, to have more widespread checkpoints without inconveniencing individual businesses. It is unclear if the option to show proof of full vaccination vs. testing would be considered, with many business owners stating that the requirement of ATK testing discourages many potential customers. It's also unclear if the checkpoints would be mandatory or voluntary, at least for customers.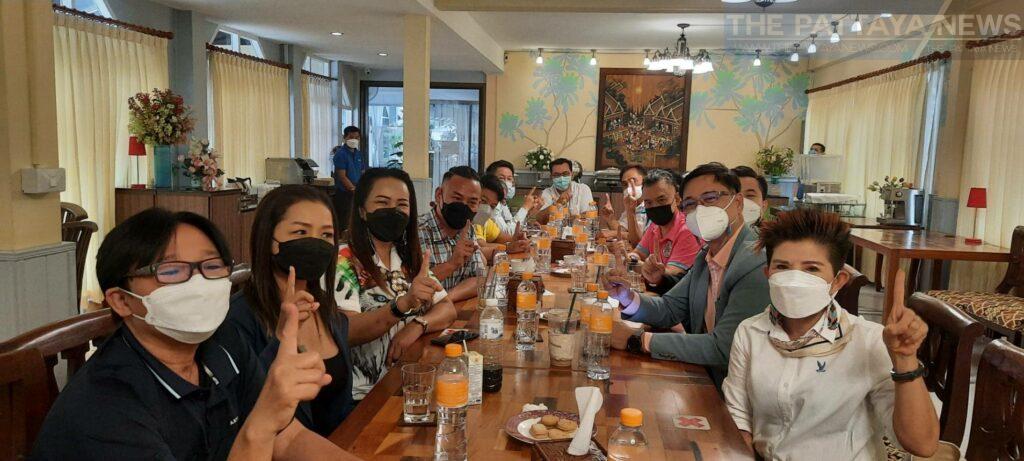 Dusit stated: "However, we'd like to take about 2 weeks to inform and gather local pharmacies in the Pattaya area to join the ATK checkpoint program proposal. We'd also make sure that the ATK price would be the same standard price in all areas."
The 'One Voice Pattaya' group was also assigned on behalf of the Pattaya Beer Bar entrepreneurs group to officially submit a letter to the TAT Director of Pattaya Office Kajorndet Apichattrakul to have the authority's consideration for joining the 'Pattaya SHA Plus City', which would amongst other things propose a full legal opening of the nighttime economy, seen as a "magnet" for tourism in Pattaya.
The group also submitted a letter to the Chonburi Governor to introduce organizing parades and festivals in early April. The group's goal was to be completely open as "normal" before Songkran this year. TPN notes that decisions on if Songkran will have limits or heavy restrictions this year is still being decided by the Center for Covid-19 Situation Administration (CCSA) in Bangkok, who currently say it is too early to make a call on the water festival, Thailand's biggest holiday, which was canceled for the past two years other than small religious and ceremonial events.
Finally, Pattaya City has confirmed starting major city events once again in March, with an every weekend music festival starting the weekend of March 5th on Pattaya Beach. The exact lineup has not yet been released.
-=-=-=-=-=-=-=-=-=-=-=-=-=-=–=–=–=–==-
Need Covid-19 insurance for your next trip to Thailand? Click here.
Follow us on Facebook
Join us on LINE for breaking alerts!