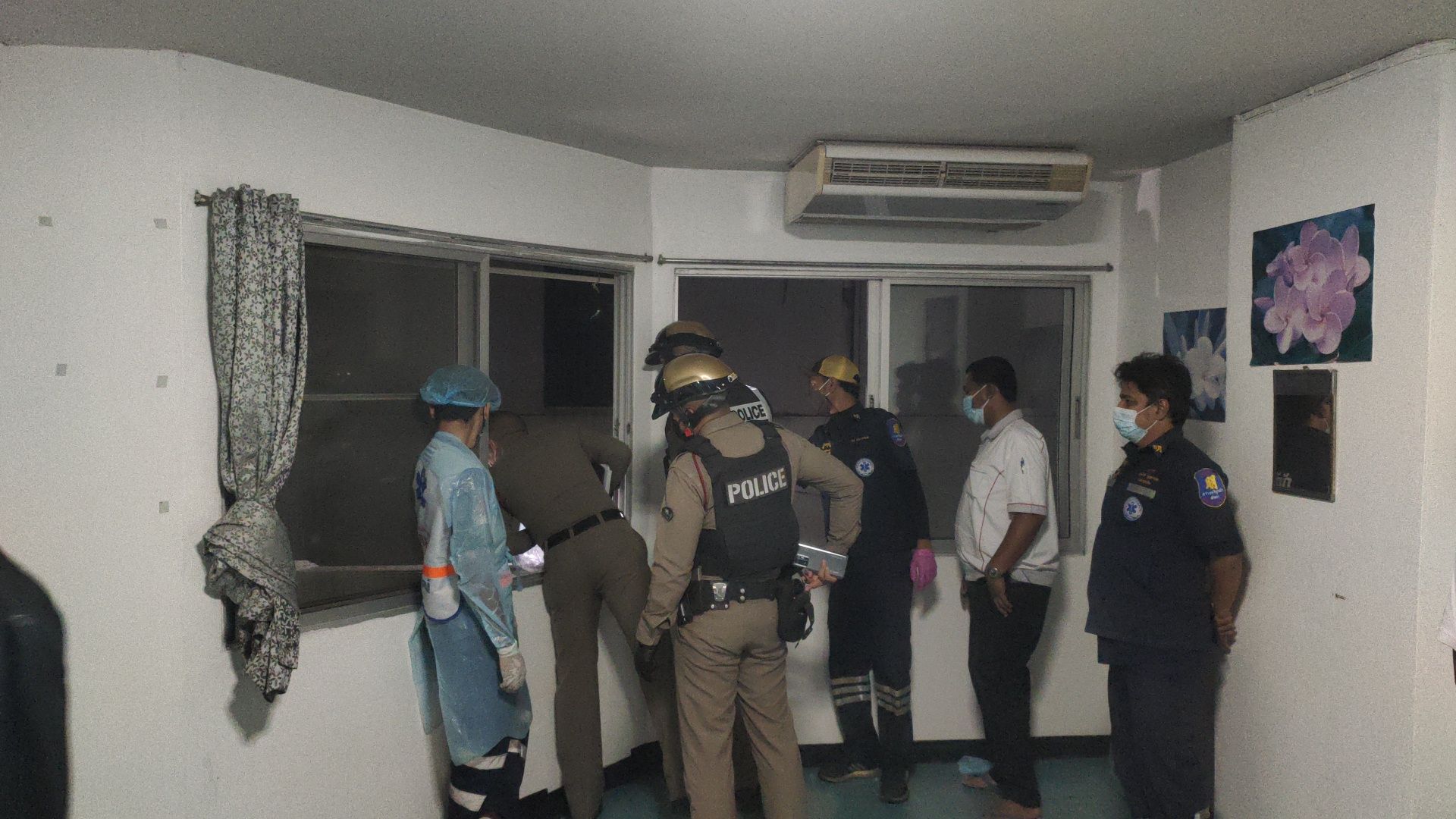 Pattaya –
A 64-year-old foreign man, believed to be an expat, has been pronounced dead last night (January 11th) after falling from a condominium in Jomtien.
Captian Sanan Kotanon from the Pattaya City Police was notified of the incident at 9:00 P.M. at a condominium in Soi 7 Jomtien. The name of the condominium was withheld pending a full investigation by Pattaya police.
Police, emergency responders, and The Pattaya News arrived at the scene to find the body of the foreign man who was identified by police as a 64-year-old Norwegian. He had landed on an awning on the 2nd floor. His name was withheld by TPN media pending notification of his family and embassy expected to be later this morning.
He was found shirtless and wearing only shorts. He had suffered severe skull injuries and three cut wounds were found on his left wrist, likely inflicted before the fall according to police.
According to Captain Sanan, the man lived alone on the 5th floor of the condominium. No signs of a struggle or other occupants were found in the room. A box cutter was found on the bed. No notes were found in the room.
Mr. Kwanchai Chalee, 45, the condominium security guard on duty, told Pattaya police, "I heard what I first thought was a transformer exploding before a resident who lives on the 9th floor came down to the guard station and informed me about the man having fallen."
According to Captain Sanan, at this stage they believe that the man might have used the box cutter to cut his wrist before jumping to his death. However, they are continuing their investigation to find his cause of death.
This is the third similar incident in a week, as seen below:
A 72-year-old foreign man, believed to be an expat, has been pronounced dead last week after falling from a central Pattaya condominium.
Elderly foreign expat falls to death from Central Pattaya condominium overnight
A Russian man was found dead after he apparently jumped from the Pattaya City Police Station early last week.
Russian man found dead after apparently jumping from the Pattaya Police Station roof overnight
Are YOU or someone you know suffering from depression, feeling down, or just need someone to talk with? There are people out there who care and want to talk to you. We suggest the Samaritans of Thailand.
=-=-=-=-=-=-=-=-=-=-=-=-=-=–=–=–=–==-