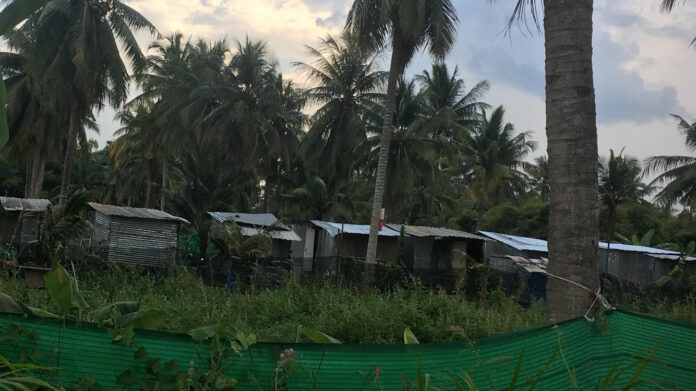 Huay Yai-
The Huay Yai Municipality reportedly has issued a permit to what neighboring ex-pats can only describe as slum housing, also known as an informal settlement, according to residents who live near the community in question.
-=-=-=-=-=-=-==-=-=-
Residents of Huay Yai were stunned at a decision to allow 20 plus tin structures on 4 rai of former coconut farmland housing foreign migrant construction workers, where no construction work could be seen being immediately undertaken.
-=-=-=-=-=-=-=-=-=-=-
The tin structures were erected back in May of this year without a permit, according to Huay Yai ex-pat residents, therefore being an illegal development. Following residents' complaints, the organizers of the development were reportedly given the opportunity by the Huay Yai Municipality to apply for a permit, rather than them serve a demolition and removal order which, according to them, is what concerned ex-pat residents consider should have been the correct course of action.
-=-=-=-=-=-=-=-=-==-=–
News this week of the permit being issued came as a shock, causing disbelief to residents as to how the municipality could give a permit to what nearby residents considered such low-quality housing and amenities. Additionally, residents of nearby communities were concerned about the current Covid pandemic being prevalent in many of these types of camps.
-=-=-=-=-=-=-=-=-=-=-=-=
One Expat resident, whose name was withheld at their request and will be referred to as M for the article, stated to the press:
"Thailand will never be able to raise its impoverished image and attract more affluent foreign investment whilst the Municipalities continue down this course "
-=-=-=-=-=-=-=-=-=-=-=-=-
The municipality stated the permit is non-renewable and lasts only one year, but failed to state another permit next year can be applied for, according to M, and as M stated:
"Given one permit was issued the Municipality would not be in a good position to refuse future applications, be it on this site or others in the area, we, therefore, expect Huay Yai to be not as attractive in the future or as it was, that attracted us to live here."
-=-=-=-=-=-=-=-=-=-=-=–==
An immediate comment or statement from either the organizer of the informal settlement, who was not specifically named to the press or the municipality was not available as of press time.
-=-=-=-=–=-=-=-=-=-=
M and other concerned residents of nearby ex-pat communities vowed to continue to pursue the issue with the local municipality.
-=-=-=-=-=-=-=-=–=
The preceding is a reader submission published with full permission and authorization by TPN media. The statements, thoughts, and opinions of the organization/individuals involved in the submission are entirely their own and may not necessarily represent those of TPN media and its staff.