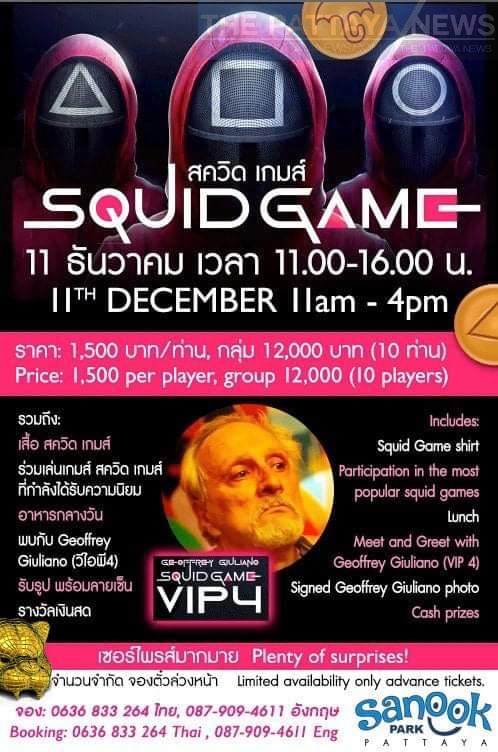 Pattaya, Thailand-
Squid Game in real life!!!!
A mystery began gripping social media in Thailand when squid game business cards began appearing in the popular seaside town of Pattaya. Over the last few weeks, there have been reports of the cards appearing in restaurants, shopping centers, and shops.
The mystery continued when people started calling the number on the card to be greeted with a message from a voice similar to Netflix's Squid game "Frontman" inviting callers in both Thai and English to play a game. Popular Thai YouTuber MymateNate shared a picture on October 18th of one of the cards he had received creating thousands of views, comments, and shares across social networks adding further to the mystery.
All has now been revealed and good news for Squid Game fans, Pattaya, Thailand is hosting its own real-life version of The Squid Game. A day of games is set for the 11th of December at Sanook Park in Pattaya.
Speaking to the owner Mark Stainton-James said "The Squid Game has been immensely popular and we wanted to create a really fun themed day that everyone can enjoy, all the players will receive Squid Game player shirts and will be able to participate in each of the iconic games from the TV series, we will be staying as true as we can to the TV series with lots of surprises, just without the same consequences of playing!"
The players will also have the opportunity to meet Hollywood actor Geoffrey Giuliano who plays supervillain VIP4 and plays a starring role throughout the day.
Additional information is available at:
Sanook Park
https://sanookpark.com/squidgame
Geoffrey Giuliano
https://www.imdb.com/name/nm0321325/