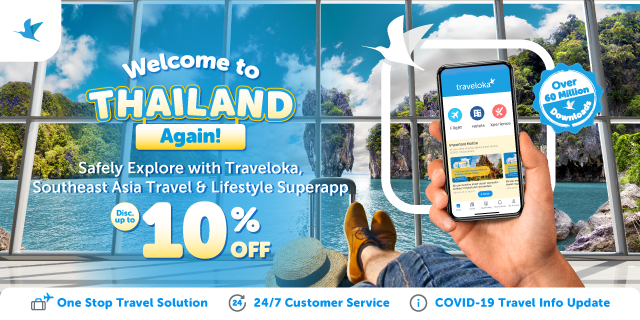 Bangkok– Countries in Southeast Asia are planning to reopen their borders to international tourists, including Thailand, which has already started with its Sandbox program as part of the country's re-opening. To contribute to the recovery of the tourism industry, Traveloka, Southeast Asia's travel & lifestyle super-app with over 60 million downloads, introduced "Welcome to Thailand Again," a promotional campaign offering special deals for inbound tourists and fully vaccinated travelers to explore Thailand with discounts of up to 10%, while at the same time encouraging safe travel.
Panicha Thananaken, Country Manager of Traveloka Thailand, said, "Through our ongoing efforts, Traveloka has demonstrated its commitment to encourage safe travel and enhance the tourism industry in Thailand. With the rigorous plan to boost the vaccination rate, we are optimistic that this effort will positively contribute to the economic recovery and growth, including in the tourism sector. With 34.7 percent (as of 15 October 2021) of the population now fully vaccinated, we are aiming to bring in international visitors to safely explore the country with Traveloka. We believe that this program will receive an overwhelming response in the market and effectively contribute to the tourism sector."
Prioritizing safety during this tough period, Traveloka is committed to encouraging strict adherence to health protocols outlined by the government. "Fully aware that we still need to remain alert with the ongoing pandemic, we armed our in-app feature with a Safe Travel Page that provides real-time COVID-19 information updates on travel regulations, document requirements, and safe traveling tips for customer reference. In addition, we have also been proactively encouraging people to implement strict health protocols through our own channels, such as Traveloka's platform as well as our social media," added Panicha.
To fulfill the travel and lifestyle aspirations of its customers, Traveloka also provided an inspirational content section whereby customers can be inspired on what to do and where to visit in Thailand. And to facilitate the booking experience for customers, Traveloka offers end-to-end solutions to support all inbound travelers' needs, including flights, accommodations, and experiences/attractions, through to COVID-19 testing with special prices and coupons:
Discount for international inbound flights: 10% or up to 50 euros
Discount for domestic flights in Thailand: up to THB 200
Accommodation coupon: up to THB 250
Xperience coupon: up to THB 200
The Welcome to Thailand Again program includes popular tourist areas being promoted by the Tourism Authority of Thailand, such as Phuket, Krabi, Samui, Bangkok, and Chiang Mai. International visitors who miss visiting  'Amazing Thailand' can enjoy these perks starting from today until December 2021 via the Traveloka app.
For more information and program terms and conditions, please visit https://www.traveloka.com/en-en/promotion/welcometh or scan the QR Code below to download the Traveloka app.
The preceding was a press release. Their thoughts and opinions are their own.
About Traveloka
Traveloka, Southeast Asia's lifestyle superapp, provides users access to discover and purchase a wide range of travel, local services, and financial services products. Traveloka's comprehensive product portfolio includes transport booking services such as flight, bus, and train tickets, car rentals, airport transfers, as well as access to the largest accommodation inventory in Southeast Asia, including hotels, apartments, guest houses, homestays, resorts, and villas, making Traveloka a booking platform with the widest selection of accommodation and packages.
Traveloka is also a key player in the local services category, offering reservations for a wide range of local attractions, activities, wellness and beauty clinics, culinary directories as well as food delivery. Traveloka offers financing, payment, and insurance products to help Southeast Asian consumers fulfill their lifestyle aspirations, with 24/7 customer service in local languages as well as more than 40 different local payment methods. Traveloka's lifestyle superapp has been downloaded more than 60 million times, making it the most popular travel and lifestyle booking application in the Southeast Asian region.