Highlights:
389 new confirmed cases of Covid-19 in Chonburi today

648 people recovered and were released from medical care

3 new deaths
The Chonburi Department of Public Health announced 389 new and confirmed cases of Covid-19 today with 3 new deaths, October 17th. This is the first time in over three months, since July 12th, that cases have dropped below 400 in Chonburi.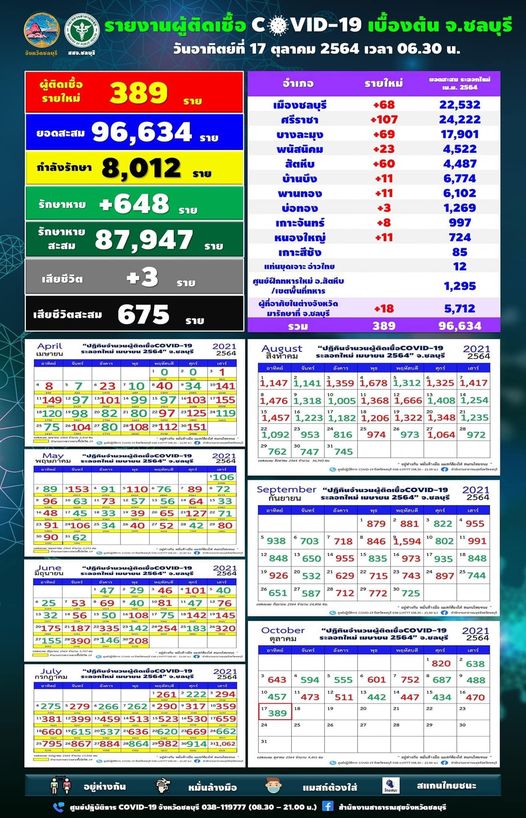 This makes a total of 96,634 cases of Covid-19 in the current round of infections, with 8,012 people still under medical care/supervision, and with a total of 675 recorded deaths in Chonburi since the start of this recent round of infections in early April.
Additionally, 648 people were also released and recovered yesterday in Chonburi. 87,947 people in total have now been released from medical care and recovered in Chonburi since this current wave of Covid-19 began.
The three new deaths yesterday had an average age of 81-years-old, according to the Chonburi Department of Public Health.  All were family contacts of previously confirmed cases and had co-morbidities such as diabetes, high blood pressure, hyperlipidemia, and heart disease. Not all three were vaccinated.
The district-level new cases were as follows today:
Mueang Chonburi 68, Si Racha 107, Banglamung (Pattaya) 69, Panat Nikhom 23, Sattahip 60, Ban Bueang 11, Phan Thong 11, Bor Thong 3, Ko Chan 8, Nong Yai 11, and 18 people transferred from other provinces for medical care.
The details on the cases are as follows:
1. Cluster Construction Camp, Blue Summit Company Limited, Sattahip District, 8 cases
2. Cluster Construction Camp, CAZ (Thailand) Co., Ltd., Sriracha District, 5 cases
3. Cluster Mitsubishi Motors (Thailand) Co., Ltd., Sriracha District, 5 cases
4. Many enterprises in Rayong province, 15 cases
5. Risky occupation, meeting a lot of people, 8 people
6. 1 medical personnel
7. Provided a history of traveling from provincial risk areas:
7.1 Bangkok 1 person
7.2 Rayong Province, 1 case
8. Close contacts of confirmed patients
8.1 in 166 families
8.2 from 45 workplaces
8.3 21 close friends
9. Close contact of a confirmed patient (under investigation) 33 cases
10. 80 cases in general are under investigation as to how they contracted Covid-19