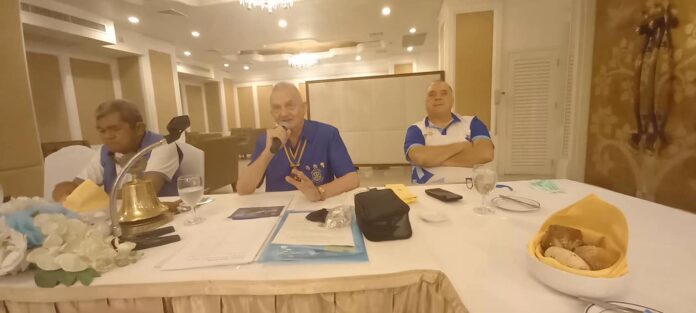 Pattaya, Thailand-
  The Rotary Club of Pattaya, Pattaya's oldest club founded in 1972, held its bi-weekly meeting this week on Monday, October 11th, at the five-star Royal Cliff hotel with about twenty members and guests attending in total.
Due to the Covid-19 pandemic and still-in place restrictions, attendance has been limited at recent meetings but is improving every two weeks as the Thai government continues to evaluate and ease virus-related restrictions.
The meeting had two main topics of conversation:
1. Guest speaker Michael Weber, President of the Rotary Club of Koh Chang, speaking about his club and how both clubs can have a successful sister club experience.
2.  To determine a makeup date for the long-delayed Rotary Peace Concert, previously delayed for months due to Covid-19.
First, you can read more about the Rotary Peace Concert and Rotary Peace Painting competition by clicking here.
A video tour of the Peace Painting Competition from earlier this year is below:
After months of delays, based on the current easing of restrictions and announcements from The Thai Prime Minister about likely easing nearly all business sectors by the 1st of December, the Rotary Club of Pattaya has decided to schedule the Peace Concert on Friday, December 3rd, 2021, at the Royal Cliff Beach Resort.
Tickets will be 1,500 baht and will feature entertainment, an awards ceremony for the peace painting competition, and a 3-course meal. Funds raised from the event will go towards assisting charitable events in the Pattaya area.
Detailed information on the concert will be released over the next several weeks, with members of the Rotary Club of Pattaya set to have a planning meeting this Saturday, October 16th.
  However, early-bird tickets are available (and space may be limited, so act fast!) by calling 08-9911-1199.
  To see more about the Peace Art competition and to learn how to potentially purchase some artwork for yourself, please click here.
As for Mr. Weber's speech, he shared with those attending the many charitable events the Rotary Club of Koh Chang took part in, giving ideas to our local members. Some of these unique ideas included swimming lessons and teaching foreign languages to Koh Chang residents. The Rotary Club of Pattaya has tentatively agreed sometime in the near future to take a "team day" to Koh Chang which will be a treat for those who have never visited the island before and learn more about the efforts of the club, which is nearly all Thai nationals, have taken part in.
The Rotary Club of Pattaya has been serving Pattaya since 1972 and is in district 3340 of the Rotary organization. The club includes both Thai and Foreign members and holds meetings and events in both English and Thai. They meet bi-weekly at the Royal Cliff hotel every other Monday.
For more information on the Rotary Club of Pattaya, 
please click here. This is a link to the club's fairly new website and detailed information for those interested!
In their own words here is a brief overview of what Rotary does for the community:
Rotary is a global network of 1.2 million neighbors, friends, leaders, and problem-solvers who see a world where people unite and take action to create lasting change – across the globe, in our communities, and in ourselves.
The club has its regular meetings on Mondays twice a month at the 5-star Royal Cliff Beach Resort in Pattaya at 19.00 pm. (Fellowship starts at 18.30 pm). Guests are welcome if you wish to hear how you can help out in the local community or inquire about joining the Rotary Club of Pattaya. Due to Covid-19, the numbers of people attending are still limited, so making reservations in advance is suggested at this time. Contact person: President Niels Colov: 08-9911-1199