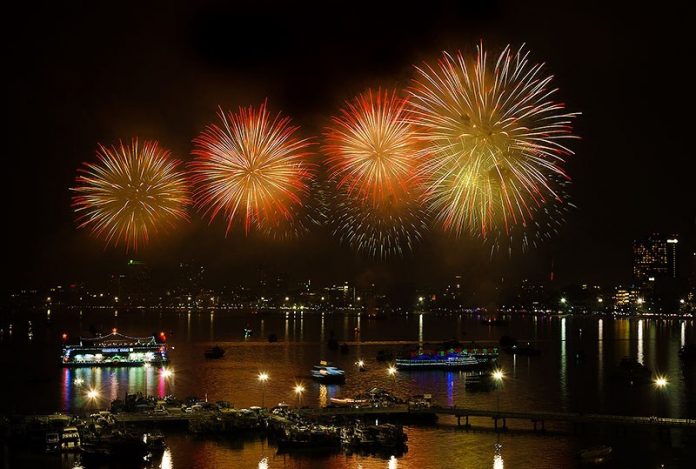 Pattaya, Thailand-
Pattaya City leaders have begun tentative, preliminary planning for weekend events in November and December, but have stressed that none of the events yet are "set in stone" due to the Covid-19 situation and are subject to change.
This follows multiple social media websites and pages posting dates for big events, such as the Fireworks Festival, on November 26th and 27th of this year. TPN media notes that this date is NOT final and official and is merely a preliminary, unofficial proposal.
According to sources at City Hall that TPN media have spoken with, there have been preliminary planning, proposals, and discussions around multiple events, including the popular fireworks festival, New Years Countdown, food festivals, Loy Krathong, and more.
However, none of these have yet been "officially" announced through PR Pattaya and are unlikely to be official until the situation with Covid-19 and restrictions set by the Center for Covid-19 Situation Administration, or CCSA, become clearer in the next several weeks.
According to Pattaya City Mayor Sonthaya Khunplume, Pattaya should hit 70% of their registered population fully vaccinated by early October. The hope from Pattaya City leaders is that this approaches well over 80% by November, especially with the upcoming addition of youth 12-17 years old who are planned to be vaccinated for school throughout October.
Pattaya City leaders hope that with this high level of vaccination they will be allowed by the CCSA to hold economically important events that historically drive tens of thousands of domestic tourists to the city, not even considering if foreign tourists will be allowed to enter under other proposals without quarantine.
Last year, when borders were closed but the spread of Covid-19 within the country was limited, according to officials, Pattaya held events nearly every single weekend for months that substantially helped local business owners and successfully drove many domestic tourists to Pattaya.
That is the hope for this "high season" as well, but is by no means guaranteed and will be reliant on decisions that are out of the hands of local and regional leaders. Under CCSA mandates, Pattaya's popular nightlife and entertainment industry has been shuttered for six months and events with over 25 people are currently banned, with all sorts of "party" events, especially centered around alcohol, banned regardless of the number of participants. This is on top of a nightly curfew and other restrictions and closures.
Chonburi, the province that holds Pattaya, also continues to report roughly over 800 cases of Covid-19 a day on average, although the vast majority are traced to factories, construction camps, and industrial estates. Chonburi also remains a maximum and strict control zone and is unlikely to be lowered from this status in the immediate future by the CCSA until cases diminish and vaccination rates overall continue to rise. For events to happen, these rules, restrictions, and color codes would need to be rescinded.
TPN media will update our readers the moment any of these proposed events become official.