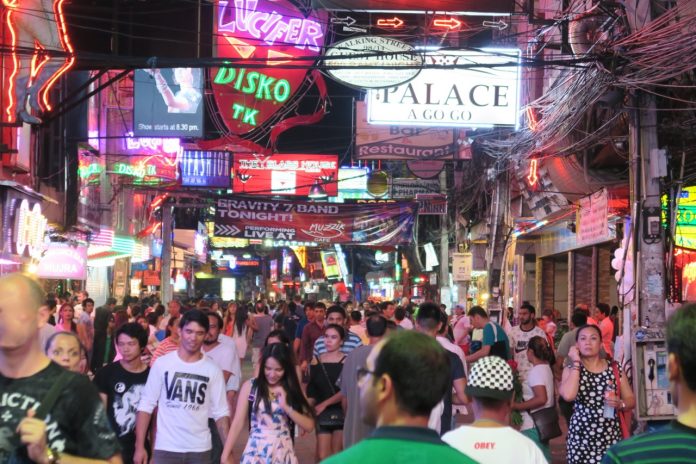 Pattaya, Thailand-
  Chonburi officials have been non-committal about any potential reopening of Pattaya's popular bar, nightlife, and entertainment industry in October, despite a proposal to reopen the city to foreign vaccinated tourists similar to the Phuket Sandbox increasingly likely to happen in some way, shape, or form.
The aforementioned proposal from the Tourism Authority of Thailand and Chonburi leaders goes before decision-makers at relevant Covid-19 agencies in Bangkok this weekend, we aren't going to cover it in-depth in this article, but you can read more about it by clicking here.
Although this would be a major step forward for Pattaya and the first time since early March of 2020 in which tourists would be allowed to roam the area freely without a strict in-room hotel quarantine, they may find that Pattaya's world-famous entertainment industry is not yet open. In fact, it is not even sure if restaurants would be able to sell alcohol. Phuket has been open for several months, but its own nightlife industry is still not open despite the island's population being highly vaccinated and all tourists/visitors vaccinated. This is despite repeated pleas from the sector, shut nationwide for about five months currently in a row, to be allowed to open with strict rules and regulations similar to restaurants.  The sector also states they, as a whole, have received little to no financial aid.
The decision, to be fair, is not that of the Pattaya Mayor or Chonburi Governor. The closure of nightlife and bars and banning of alcohol at restaurants is a mandate from the Center for Covid-19 Situation Administration, or CCSA, in Bangkok. Although it is true that enforcement differs greatly across the country, Pattaya, as a whole, has been fairly strictly enforced with authorities well aware that Pattaya is the epicenter of nightlife and bars in Thailand.
The CCSA has shown themselves to be, so far, exceedingly cautious and conservative around anything involving alcohol, continually stating that they believe alcohol-related gatherings and events are the highest-risk activities at spreading Covid-19. The CCSA has not given, or outlined a plan, on reopening entertainment, bars, concerts, and nightlife in the country at this time.
Chonburi leaders, however, including the Takhian Tia Mayor and Banglamung leaders, want to take the focus away from nightlife and bars and reassure tourists there would still be plenty to keep people busy on a holiday in Chonburi.
At this time, with the immediate opening of nightlife uncertain, leaders plan to focus on promoting cultural and natural attractions in Pattaya for potential vaccinated foreign tourists, as well as venues that are currently already opened.
Some of the attractions and things leaders plan to focus on are: Beaches and how much cleaner they are with a lack of major tourism, Koh Larn and other islands, water activities like diving and swimming, tourist attractions like Nong Nooch Gardens, the Sanctuary of Truth, Khao Kheow Open Zoo, and animal attractions. Leaders also plan to focus on the fact that Pattaya has many major resorts with many amenities, multiple shopping malls like Terminal 21 and Central Festival, hundreds of diverse restaurants, and natural attractions like Buddha Mountain, the Big Buddha (newly repainted for tourists), and many local temples such as Wat Yansangwararam.
Takhian Tia also plans to focus on cultural and historical attractions, hoping tourists would be interested in learning how Thais lived through history and experience weaving, traditional Thai dress, food, and culture.
Officials also plan to promote the many golf courses in the Pattaya area, according to the information given to TPN media. It remains to be seen, however, if this will draw crowds with Pattaya's famous nightlife possibly unable to open due to authorities concerns with Covid-19. TPN Media notes that business owners in the entertainment sector have also already begun to petition and offer suggestions to the CCSA on how to safely open their sector, stating they are willing to follow strict rules if they are simply allowed to open their doors, including proposals for only allowing vaccinated customers and staff.
TPN media will continue to keep you updated, the first of the proposals for reopening Pattaya is set to be debated this upcoming weekend by the CCSA.