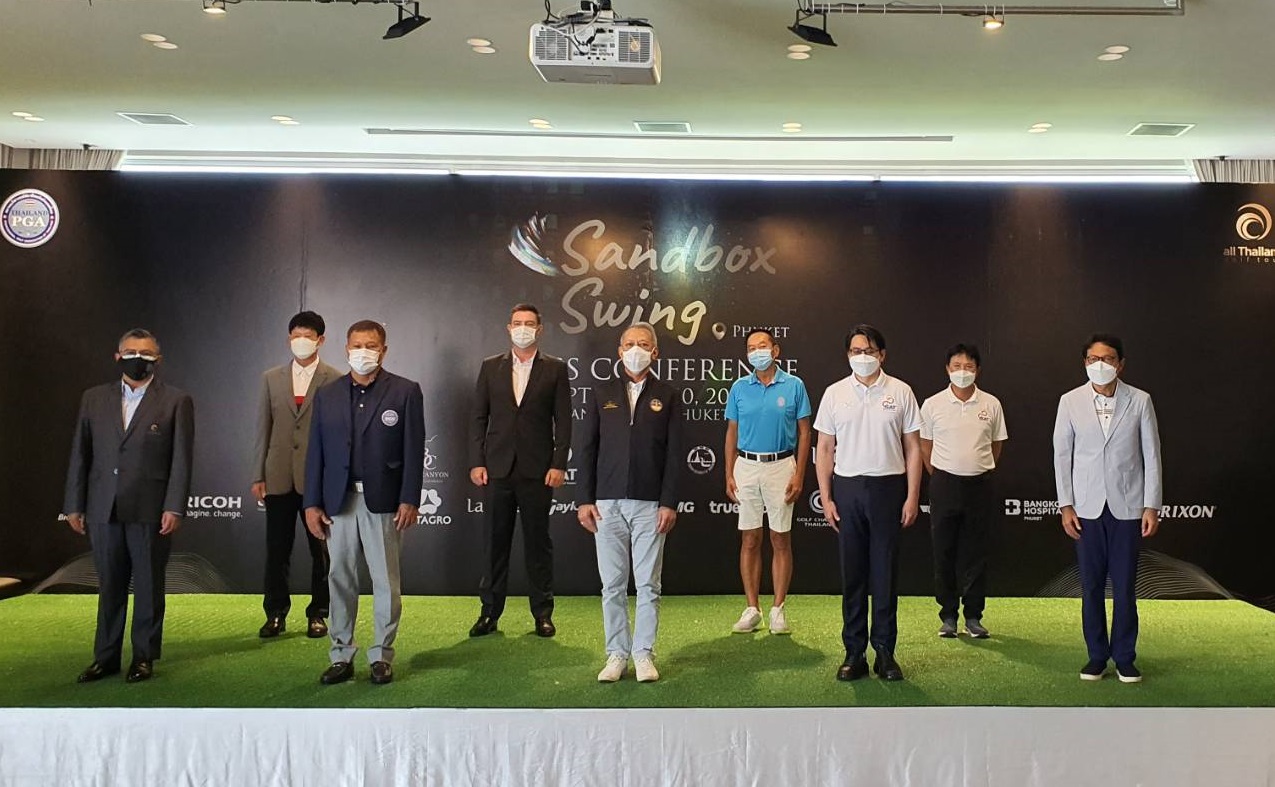 The following is a press release. Their opinions and statements are their own.
Ministry of Tourism and Sports lends its hand towards organizing All Thailand Golf Tour to boost tourists' confidence and making sure that Thailand stays at the top of their lists of travel destinations.
 September 10, 2021, the Banyan Tree Phuket, Phuket – H.E. Mr. Pipat Ratchakijprakarn, Minister of Tourism and Sports, Mr. Pichet Panapong, Vice – Governor of Phuket province, and Mr. Tanes Petsuwan, Deputy Governor for Marketing Communications, Tourism Authority of Thailand (TAT), jointly held a press conference to announce the upcoming All Thailand Golf Tour 2021.
H.E. Mr. Phiphat Ratchakitprakarn, Minister of Tourism and Sports stated that every country, including Thailand, had been faced with challenges due to the COVID-19 global pandemic, which heavy impacts could be witnessed directly on the tourism industry. The Royal Thai Government has made a continuous effort on returning confidence to the people in terms of public health measures to help strengthen the economy.
Thus, on 1st July 2021, the government launched a pilot project intending to kick-start tourism in Phuket called the "Phuket Sandbox" welcoming tourists from low- and medium-risk countries, who had already been fully vaccinated with vaccines considered acceptable by the Thai Ministry of Public Health. Not only a "negative" COVID-19 test result must have been obtained within 72 hours before arrival, but all incoming tourists must also need to strictly abide by all the terms and conditions set forth by the government to be able to travel around the province freely without the need for quarantine.
For the period of 1st July-31st August, the project has welcomed 26,400 visitors and generated more than 1.6 billion THB in revenue for Thailand. The strategies are now being directed towards the Sports Tourism segment by assigning TAT and the Sports Authority of Thailand (SAT) with plans to hold professional golf tournaments. With cooperation from the Professional Golf Association of Thailand (Thailand PGA), and the All-Thailand Golf Tour, the project is called the "Sandbox Tournament". The main goals are first to create awareness of Phuket and its golf courses in terms of safety that meet the standards set by the Amazing Thailand Safety and Health Administration (SHA), while also being certified by the World Travel and Tourism Council (WTTC) with the Safe Travels Stamp.
The move is to ultimately elevate Thailand's safety standards to an internationally accepted level and declare Thailand's readiness in welcoming tourists to Phuket as well as other provinces.
Mr. Tanes Petsuwan, Deputy Governor for Marketing Communications, TAT, stated that the COVID-19 pandemic has caused a severe impact on the tourism industry, and the government has been very consistent in terms of providing international tourists with updated information on Thailand's situation and making sure that Thailand remains at the top of their lists of holiday destinations. The information includes Thailand's various public health measures as well as details of the piloted Phuket Sandbox project, welcoming tourists from overseas to Phuket among other areas in the surrounding area. The SHA Plus conditions have also been applied as additional safety requirements to all the local business operators, which mandate that more than 70% of their staff must be fully vaccinated to elevate the tourists' level of confidence.
Moreover, TAT aimed to highlight the sport of golf by promoting the Minister Cup activity at the Alpine Golf Club, Pathum Thani province on 4th April 2021. Another important activity was the Amazing Thailand Expat Golf Tournament Series held for the first time at the Blue Canyon Country Club, Phuket province on 18th August 2021. TAT in collaboration with SAT has also set plans to launch more activities to promote golf among international tourists as well as expatriates living in Thailand.
There is also tremendous support from Thailand PGA in holding the All-Thailand Golf Tour 2021, which includes 7 major events with the first 2 tournaments being the Singha All-Thailand Championship 2021 that will be held between 23rd -26th September 2021, at the Blue Canyon Country Club, Phuket and the Singha Laguna Phuket Open 2021, which will be held between 7th -10th October 2021, at the Laguna Golf Club, Phuket. Both golf courses are extremely well-prepared and have already been certified to meet the SHA Plus standards.