Bangkok –
The four-day censure debate started off Tuesday, August 31st, featuring complaints and disclosures of the government under the ruling of Prime Minister Prayut Chan-O'Cha.
The debate primarily targets the problem of Covid-19 spread in Thailand and the government management since the pandemic situation began in Wuhan, including the current Covid-19 vaccine distribution.
Members of the oppositional parties criticized the government for, according to them, poorly managing the pandemic situation and showing no enthusiasm for alternate vaccine procurement by refusing to join the Covax global vaccine program and ignoring the private sectors' demand for alternative mRNA vaccines.
The Prime Minister insisted that the government did not neglect the private sector from importing alternative vaccines but everything must be in order and must consort with vaccine company representatives and requirements. He also stated that he has ensured that an amount of 61 million doses will be available for everyone by the end of this year.
He also clarified to the House of Representatives that the plan of opening the country within 120 days as previously announced will continue to proceed, in principle, sometime in October. But, if the infection rates are still concerning, the government would consider opening only the areas with less-to-no infections to foreign visitors without quarantine.
In theory, this plan allows vaccinated foreign visitors to return to Thailand without quarantine. However, the definition of fully opened seems to vary based on who is asked in the government, notes TPN. Although it may be "opened" restrictions, rules, and even certain business sectors may have control measures or not yet be entirely available for service if deemed a threat to possibly spreading Covid-19 further.
"If it is not possible for us to be opened at the same time throughout the country, we will consider opening only areas under control. Even if the whole country is open, there will not be that many tourists as the pandemic is still very much taking place around the world and many countries have their own restrictions on entry and return," he stated.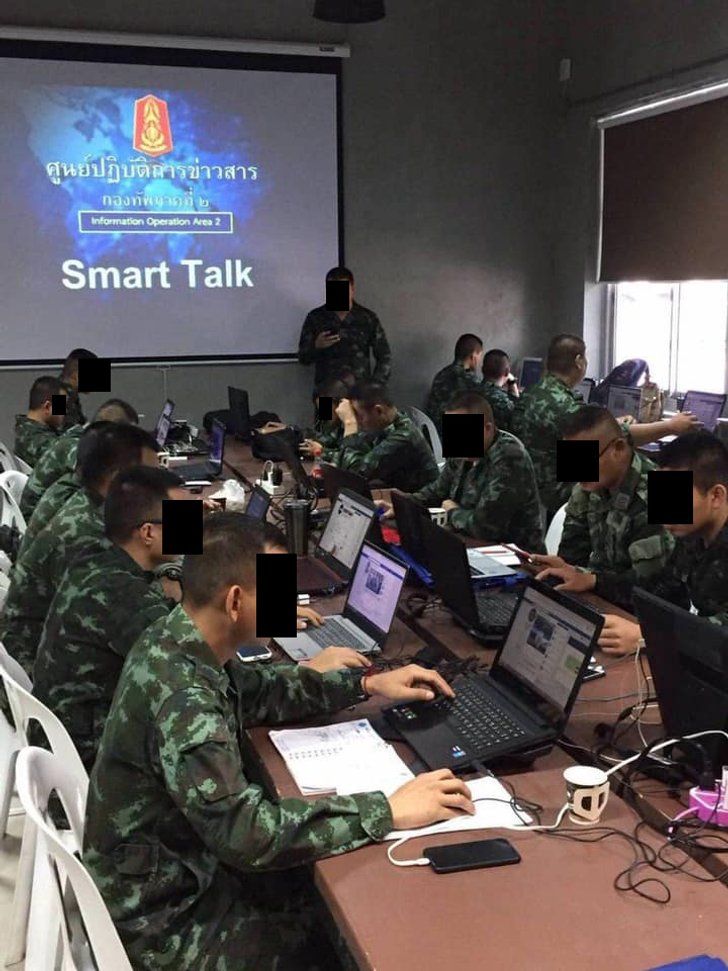 During the censure debate, Move Forward Party MP Natcha Boonchaiinsawat also exposed footage of what he claimed to be the "Royal Thai Army's IO operation", revealing a room full of computers with uniformed soldiers who were seen browsing on social media platforms.
According to the MP, the operation has owned Twitter accounts that would write supportive and positive statements towards the government and criticize those who opposed in order for minor soldiers who were ordered to participate in this operation to share such statements through their personal social media accounts.
More documents received also allegedly revealed that each military department was working cooperatively posting discrediting and conflicting comments on several Facebook anti-government pages.
The exclusive disclosure of the Thai Army had caused outrage on social media to criticize the military government, resulting in the hashtag #แหกIO (#exposingIO) becoming trending in Thailand since yesterday evening.
The Army has mostly denied the claims.
หัวหน้าหน่วยได้รับเงินจากกองทัพบกเดือนละ 2 แสนบาท ต้องจ่ายเบี้ยเลี้ยงให้ลูกน้องในหน่วย IO คนละ 7,440 บาท/เดือน แต่กำลังพลบอกว่าได้จริงเดือนละ 1,500 บาท และก่อนหน้านี้ไม่ได้!

เลวซ้อนเลว คือสั่งให้ทำงานสกปรกแล้วยังโกงเงินเขาอีก เอาเข้าไป#อภิปรายไม่ไว้วางใจ #แหกIO #นักรบไซเบอร์ pic.twitter.com/ngGYrd6x0t

— พรรคก้าวไกล – Move Forward Party (@MFPThailand) August 31, 2021
Finally, the Prime Minister also stated that the current widely unpopular curfew in place in Bangkok and 28 other provinces could potentially be canceled or shortened in the next several weeks, depending on the Covid-19 situation in Thailand.
He stated that the curfew was not in place for political reasons, as some opponents have claimed, but due to concerns of people throwing parties or going to illegally opened nightlife venues or bars. He stated the government had "severe concerns" about nightlife venues and activities in general spreading Covid-19. Currently, officially, bars and nightlife are still closed country wide and alcohol is banned from being sold at restaurants for dine-in, especially in "maximum control" provinces like Bangkok.
The Prime Minister did add that the Center for Covid-19 Situation Administration (CCSA) plans to meet with nightlife, musician, and entertainment associations and owners to discuss a potential plan to safely open their venues in the future, but did not commit to a timeframe. He reminded those attending the censure debate that many saw entertainment and nightlife venues as responsible for the outbreak of Covid-19 in April. Critics of Prayut, however, blame illegal migration and lack of border control as well as not properly locking down domestic travel prior to Songkran for the outbreak.
-=-=-=-=-=-=-=-=-=-=-=-=-=-=–=–=–=–==-
Follow us on Facebook,
Join us on LINE for breaking alerts!