Bangkok –
About 35 protesters were arrested and 118 summons were issued for protesters and leaders after an intense confrontation at Vibhavadi Rangsit Road yesterday, August 22nd, the Metropolitan Police Bureau (MPB) spokesperson reported.
Today, August 23rd, 2021, was the first day in eight days that a protest was not scheduled in Bangkok, although a small group of protesters continued to confront police late Monday night.
MPB deputy commissioner and spokesman Piya Tawichai told reporters this morning that a group of protesters who called themselves "Thalu Gas " started gathering at Sam Liam Din Daeng Junction at around 5:00 PM. This group has not presented any major demands, according to police, and does not seem to want to negotiate with police.
The police warned them to stop such actions as they were violating the country's Emergency Decree to control the Covid-19 coronavirus which limits all gatherings to five people or less, the protesters, however, reportedly began violently throwing firecrackers, ping-pong bombs, and handmade explosive devices at the officials. The police then had to advance onto the group to maintain peace and order, according to the press conference.
A total of 35 protesters were captured at the protest site, 20 motorcycles were confiscated, along with a number of firearms, explosives, and other weapons. At the same time, about two police officers were injured while several public and private properties and the private sector were partially damaged.
"Such behaviors of the protesters are considered violating the Emergency Decree and the Communicable Disease Act to prevent the domestic spread of Covid-19 Coronavirus," Piya added.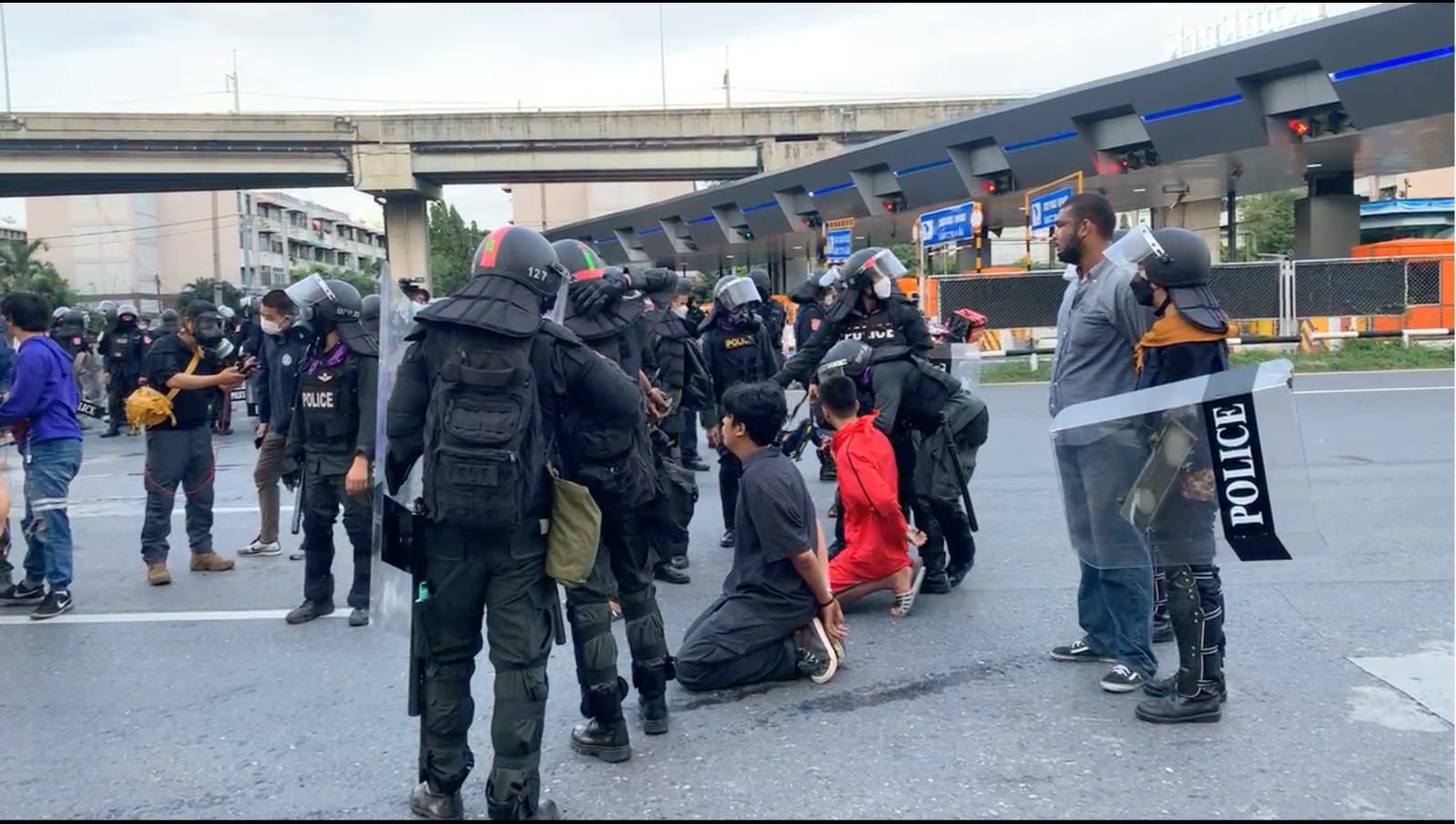 Currently, the Metropolitan Police Bureau has now issued 118 additional summons for protesters from July to August, according to the spokesman. 16 of them were issued for protest leaders for reportedly violating the Emergency Decree, the Communicable Disease Act, the Road Traffic Act, the Cleanliness Act, and the Amplifier Act. Another 102 summons were for protesters who were charged for violating the Emergency Decree.
"For violent protesters, the officials would proceed with the court to request arrest warrants under the charges of explosives possession, arson, committing secret society and criminal association, gatherings of 10 or more people, and causing chaos in the country," he concluded.
-=-=-=-=-=-=-=-=-=-=-=-=-=-=–=–=–=–==-
Follow us on Facebook,
Join us on LINE for breaking alerts!