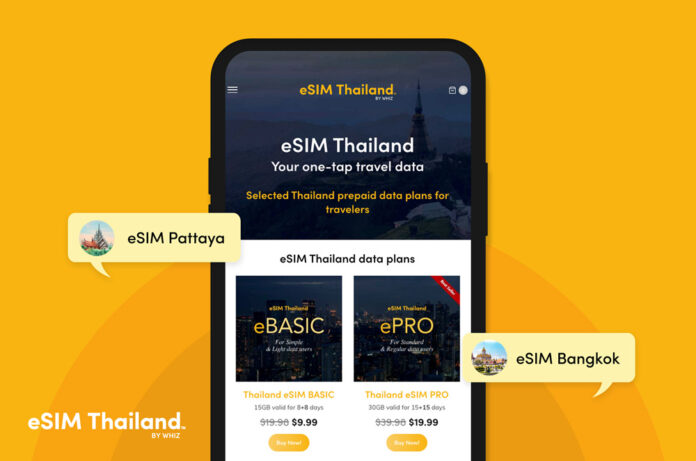 The following is a press release. Their thoughts and statements are entirely their own.
eSIM Thailand is offering innovative ways to utilize roaming services specialized for Thailand visitors. With no need for purchase or installation of any physical SIM card, eSIM Thailand's digital SIM (eSIM) roaming plan assists visitors with using local data at reasonable prices.
BANGKOK, 20 August 2021 – eSIM Thailand is offering an innovative way to use roaming services for post-pandemic travelers, specifically aimed at visitors in Thailand.
Since implementing the 'Phuket Sandbox' program, which has extended into more southern areas of Thailand from August 16th, international travelers are now looking forward to visiting Thailand more now than ever before.
Like the daily changes many had to deal with for the past year, these changes also made a drastic impact on travel. Current travelers now have to face a post-pandemic way of traveling — which primarily includes minimizing physical contact to avoid virus transmission. Amidst all of this, one of the biggest changes which should be brought into travel should be roaming services. 
 As an exclusive eSIM provider specialized in Thailand, eSIM Thailand offers a digital SIM (eSIM) for roaming service that works completely contactless. Unlike buying and switching physical SIM cards, eSIM plans can be done entirely online. Once a customer purchases an eSIM, the data plan's QR code is sent via email. By just the scan of a QR code, customers can directly connect to the internet in Thailand. Various prepaid data plans are provided through eSIM Thailand at affordable prices that start from only US$ 9.99. 
 eSIM Thailand also exclusively offers "City eSIM Plans" for visitors who decide to stay longer in a particular city such as Pattaya. Since each city's leading local networks can vary by city, eSIM Thailand selects and offers the most suitable plans that connect you to the city's best network. As one of Thailand's popular vacation spots, visitors who wish to prolong their stay in Pattaya can continue to receive stable data connections with eSIM Pattaya.
 For more information and Thailand eSIM data purchasing, visit this website: https://esimthailand.com/. Before buying any eSIM plan, customers are encouraged to check whether their device is compatible with eSIM usage.