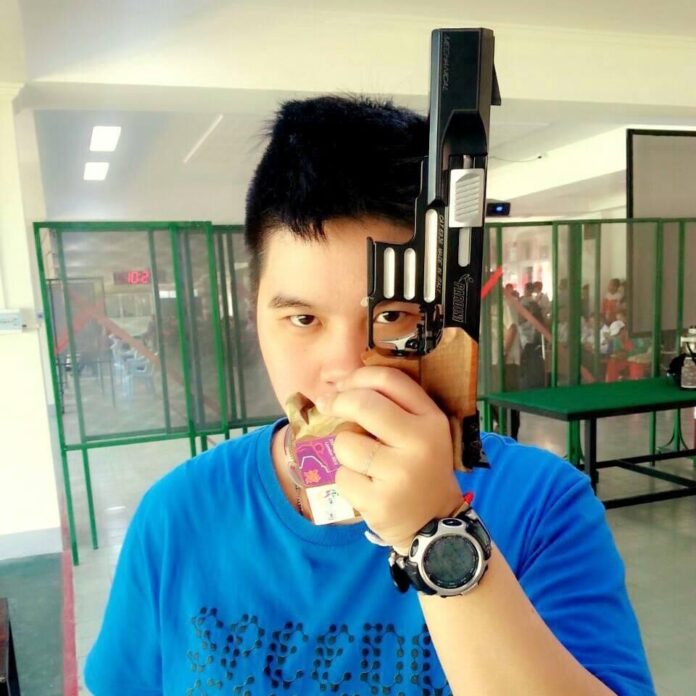 22 July 2021: National sharpshooter Naphaswan Yangpaiboon will get a once-in-a-lifetime experience when she bears the Thai national flag at the Opening Ceremony of the Olympic TOKYO 2020 on Friday.
The air pistol shooter is thrilled to be given this honor which she will share with men's trap shooter Savate Sresthaporn during the athletes' parade. For the first time, two athletes, one male, and female, from each country will bear the national flag together in the Olympiad Parade of Nations – a move to promote gender equality.
"I was in shock when I was informed about this," said the world No 35 as she recalled the moment Chef de Mission Thana Chaiprasit passed on the news. "I never dreamed of getting the chance to perform this honorable duty," added the 33-year-old.
Naphaswan, whose career highlight is a gold medal from the 2017 World Cup in New Delhi in the 25m air pistol event, last took part in the Olympics nine years ago in London. She participated in the opening ceremony and absorbed the grandeur of the Games atmosphere.
"To be part of the athletes' parade was already amazing, but to bear the national flag ahead of the Thai parade will be extra special. I've never done anything like this even on Sports Day at school. Mom and dad will be so proud when they see me on TV," added the shooter.
The Chiang Mai-based shooter will compete in two categories in Tokyo: the women's 10m and 25m air pistol. Back in the 2012 edition, she did not make it to the finals. So, her primary target is to move beyond the qualifying round and aiming even higher if she reaches that goal.
"I've been trying to work on certain techniques and hope to make it to the final eight in the 25m event, which is my favorite.
Personally, I am hoping for a top-three position. But it won't be easy to win a medal, as a lot of top shooters are here," the national dead-eye said.
Naphasawan has posted only three podium finishes in the World Cup in her career. As well as her gold in 2017, she bagged a silver in Beijing in 2014 and a bronze in Munich in 2016. In Tokyo, she will kick off her campaign in the 10m pistol on July 25 and the 25m pistol on 29.
The 2019 Asian Championships winner is one of six Thai shooters in Olympic TOKYO 2020. The others are Tanyaporn Prucksakorn (women's air pistol), Isaranuudom Phurihiranphat (men's rapid-fire pistol), Isarapa Imprasertsuk (women's skeet), Sutiya Jiewchaloemmit (women's skeet), and Savate Sresthaporn (men's trap).