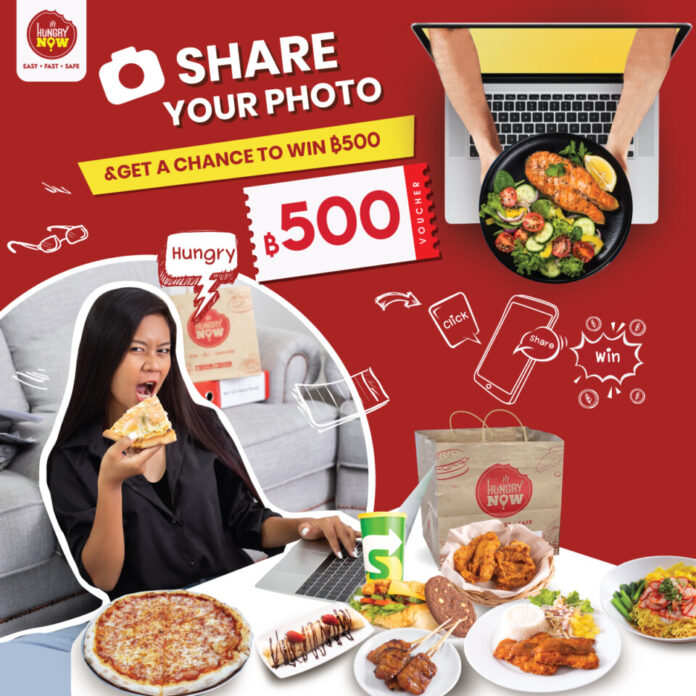 Pattaya and Chonburi, Thailand-
HungryNow, Pattaya and Chonburi's premier local delivery service is holding a brand new "Work From Home" campaign and wants to see YOUR photo entries on how YOU work from home during the current Covid-19 situation in Chonburi and Pattaya.
With Pattaya's entertainment venues shuttered, alcohol still not allowed in restaurants, and many venues closed, many local residents have decided to take most of their meals at home. This also comes as Chonburi continues to report cases of Covid-19 in the local area, leading to more people working from home as well.
HungryNow is aware of this and wants to make your working day a little bit more interesting!
Starting this week HungryNow invites you to take pictures of your HungryNow delivery order at your home office or workspace. Be creative, inventive, and show off your fun side!
For the best pictures, as chosen by HungryNow, discounts will be given for future HungryNow orders! Oh, and of course, you also get the bragging rights of being the best picture and possibly being featured by HungryNow in future advertising!
There are, of course, some terms and conditions. Those can be found here:
Users will be participating in this campaign by sharing their photo inside their home "office station" with the meal and HungryNow bag in their social media (story/feed) and should tag the official HungryNow account. 

The picture should show the user working. The crazier/ funnier, the more creative, and inventive the better. Show your personality!  Don't be shy!

Users can give the story behind the picture if they choose to. However, they can also simply let the picture tell the story.

As many of our readers know, pictures are often worth a thousand words!

All the tagged pictures will be re-shared by HungryNow through the official HungryNow social media account.

This can give you some bragging rights!

The HungryNow team will decide on the top pictures.

Winners will be announced through social media sites and will distribute discount vouchers through direct messages with the winners. The exact amount of the discount vouchers will be discussed with those who win!
To participate, simply take a photo inside your own "home office station" with the meal you've ordered from HungryNow and share it on your Facebook or Instagram story and tag us at the official HungryNow account: 
Facebook: https://www.facebook.com/HungryNow.TH
Instagram: https://www.instagram.com/hungrynow.th
The Pattaya News will also create an article at the end of the campaign highlighting the winners as well as some of the funniest and most creative photos, so we encourage you to keep an eye out for that!
As for HungryNow, if you haven't heard of them yet, you should!  They offer free delivery within 20 kilometers, have great discounts that change often, feature hundreds of quality local restaurants with many more added weekly, and are actually locally operated with real local residents and not a giant overseas company with call centers.
So, stop listening to that grumbling stomach, save some money by trying HungryNow today!
Download the HungryNow app on the App Store and Play Store.
To stay up to date with HungryNow:
Like them on Facebook: https://www.facebook.com/HungryNow.TH
Follow them on Instagram: https://www.instagram.com/hungrynow.th/
Add them on LINE: https://lin.ee/BssQnUG
About HungryNow
HungryNow is a fast and reliable food delivery service in Pattaya and Chonburi connecting people with the best restaurants in the city. They do this by empowering local businesses and in turn, generate new ways for people to earn, work and live.
They started by facilitating door-to-door delivery, but they see this as just the beginning of connecting people with possibility — easier evenings, happier days, bigger savings accounts, wider nets, and stronger communities.
HungryNow is headquartered in Bangkok, Thailand, and has the first branch office in Pattaya and the second in Chonburi. For more information, please visit https://hungrynow.co.th
Contacts
For HungryNow: