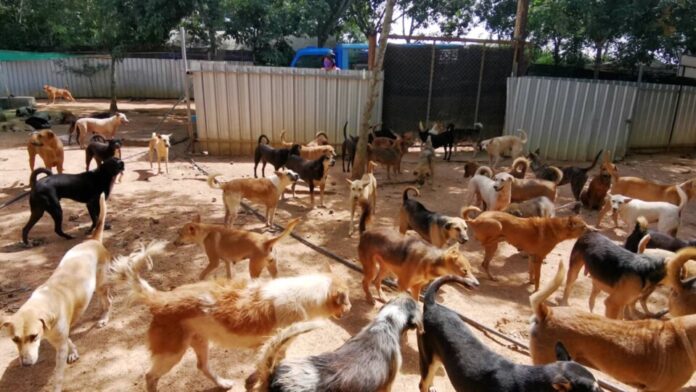 Pattaya –
The Pattaya City Deputy Mayor visited a stray dog shelter in the Pong sub-district, Banglamung where there are not enough roofs for the 600 stray dogs that stay at the shelter.
Additionally, Pattaya City will not catch any more stray dogs unless the dog in question is aggressive and attacks people, but will sterilize them instead as a general policy according to the Deputy Mayor.
The Pattaya City Deputy Mayor Manot Nongyai yesterday (June 23rd) visited the dog shelter in Ban Klongyai in Pong. More than 600 stray dogs stay at the shelter, many of them described as previously having reported incidents of aggression or being a nuisance, and were caught and brought to the shelter as a result, according to Manot.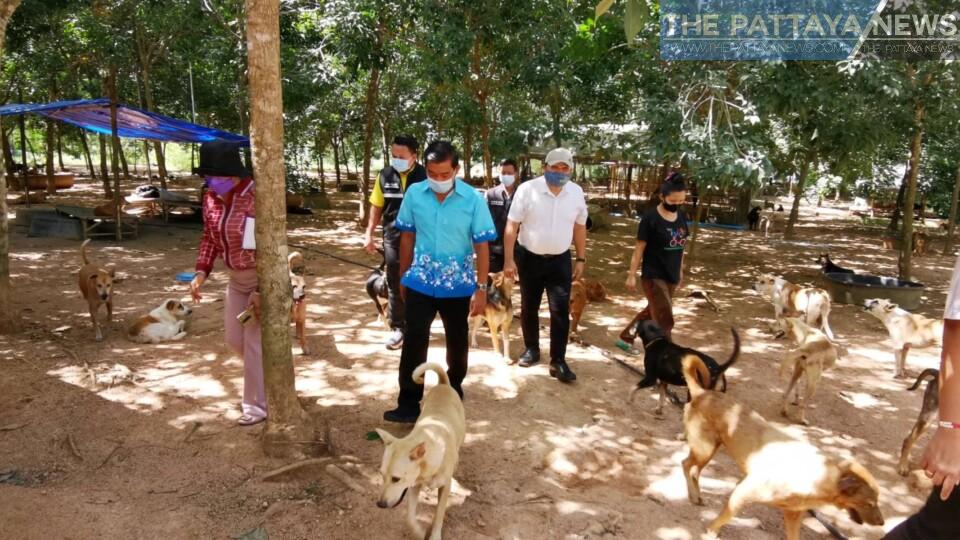 Mr. Manot told Pattaya News Reporters "The Sanguanchart Sornkrai Foundation used to take care of the dog shelter with a partnership between Pattaya City for many years."
"Since Covid-19 began there have been significantly fewer donations to the shelter and the foundation has as a result been unable to properly fund the dogs and their needs. As a result, the foundation, unfortunately, had to make the difficult decision to hand the shelter and its estimated 600 dogs to the direct management of Pattaya City as they simply don't have the donations and support they did when tourists could openly visit the city and it is unknown exactly when foreign tourists can return with no quarantine and little restrictions, despite plans to open the country in October." Manot stated.
"During the next three months, we want to ask for people who love dogs to donate some money to the shelter as we have to pay for seven caretakers. After that, we can make a decision with the next budget year which starts in October for how we will allocate financial resources from the city." Manot explained.
"We still have enough food and water for the dogs, this isn't an issue. Every Tuesday, veterinarians from Pattaya City come to check the dogs and their overall health. The priority, however, is getting caretakers and providing more shelters from the sun and rain for the dogs." Manot added.
"We need to construct at least three more shelters/roofs/canopies for the dogs to live and take refuge under, especially during storms and to shelter from the sun. Anyone who wants to help please contact this number 081-3155773." Manot said.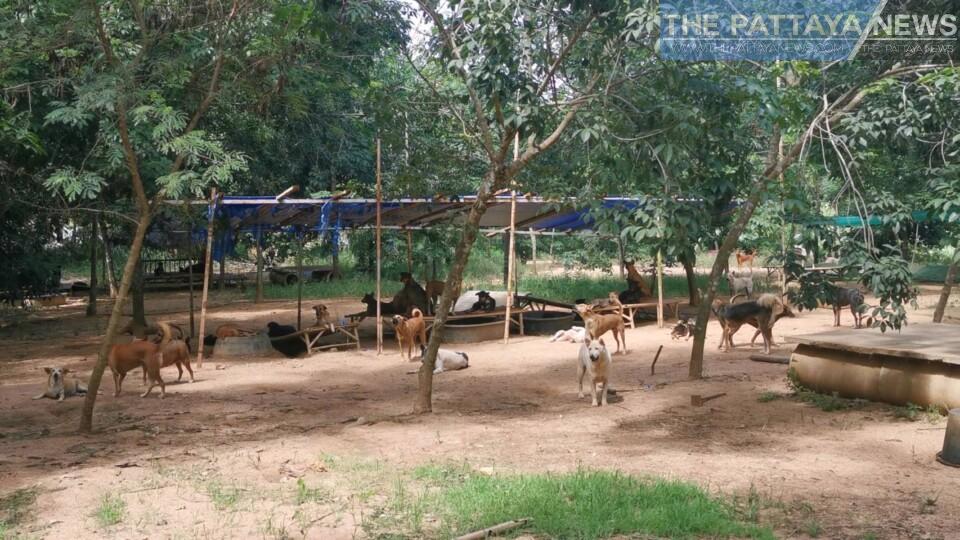 "We are trying to sterilize every dog in our local community to control the number of stray animals and we have adjusted our policy to leave them where they are in the local community unless they hurt or attack people. We cannot take all the stray dogs in the city  into the shelter as it is already overflowing with animals." Manot concluded.
Just one day ago our reporters covered the city sterilizing stray animals around the city, which have grown in population and visibility due to a lack of foreign tourists, more abandoned buildings and streets, and the fact many people abandoned their pets when they left Pattaya after Covid-19. Click here to read about that.
_________________
Don't forget to subscribe to our newsletter and get all our news delivered to you in one spam-free daily e-mail Click here!
Follow us on Facebook, Twitter, Google News, Instagram, Tiktok, Youtube, Pinterest, Parler, Flipboard, or Tumblr
Join the discussion in our Facebook group https://www.facebook.com/groups/438849630140035/or in the comments below.
Want to advertise with us or inquire about us promoting your business, event, charity, or local-sport, etc? E-mail us at Sales@ThePattayaNews.com
Have a General news tip, press release, question, comment, etc? We are not interested in SEO proposals. Mail us at Pattayanewseditor@gmail.com