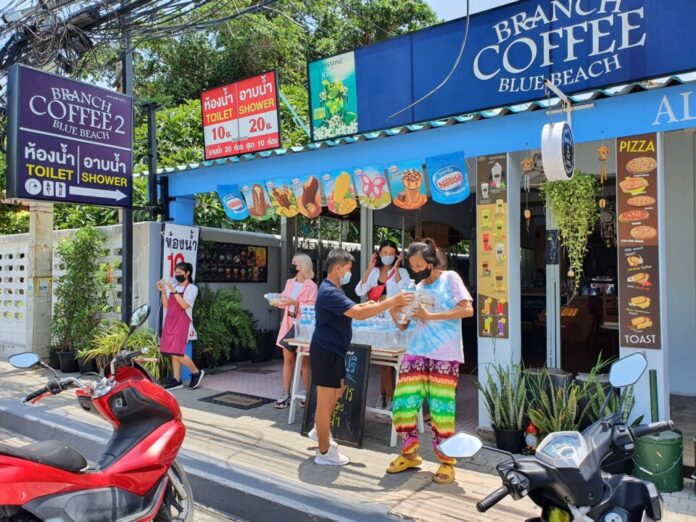 Jomtien, Thailand-
Branch Coffee 2, located on Jomtien Beach heading towards Na Jomtien, has put together a joint effort between customers, local Russian ex-pats, and staff members to assist the needy weekly in the city.
The Coffee shop is giving away meals and water to anyone who needs it every Sunday at noon. Anyone is welcome to join the giveaway, according to Branch Coffee.
Anyone can also assist to feed those in need by donating at a special donation box located at the Branch Coffee shop 2 anytime during the week.
Pattaya is currently under strict Covid-19 restrictions that have seen the majority of local businesses, especially those in the entertainment sector, either forcefully closed by government measures or closed by choice due to lack of domestic and Thai tourists. Pattaya and Jomtien rely on tourism for 80% of their GDP according to Pattaya City Officials, but the actual number may be much higher.
Due to an ongoing Covid-19 situation in Thailand, many rules and regulations have been implemented, one of those being the closure of all entertainment venues across the Kingdom and multiple travel rules that have essentially brought domestic travel to a halt. Quarantine for foreign visitors is currently fourteen days, regardless of vaccination status, which means foreign tourists are also basically zero.  This has seen many people fall on hard times in tourist-reliant Pattaya.
Thank you to all of those who continue to assist those in need in our local community. We understand that not everyone wants to publicize their charity work but if you would like to have your charity, group, or individual effort to help the needy considered for an article our contact information is below. We are happy to support our local community to help those in need.