Bangkok –
A number of pro-democracy protesters gathered at the Victory Monument of the capital this afternoon, February 28th, to stage a planned demonstration and a march to the Prime Minister's military housing at the First Infantry Regiment this evening.
The demonstration was called at around 3:00 PM. by the Free Youth group under a new leaderless protest name called the "REDEM" group. A group of pro-democracy Myanmar supporters also joined the protest in solidarity with the anti-dictatorship government.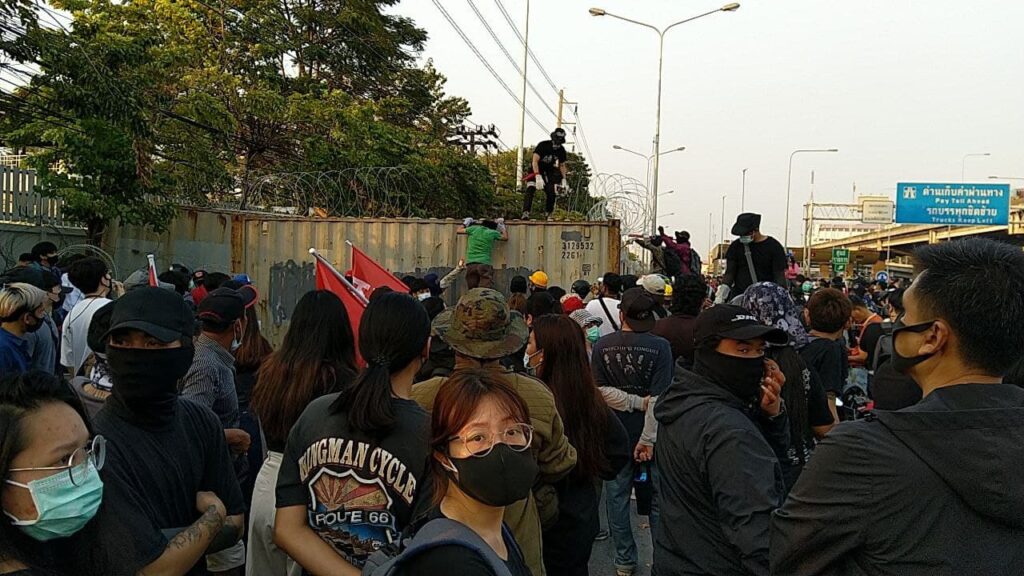 PHOTO: Prachatai
The protesters began marching to the Prime Minister's house in the Phayathai district at around 5:00 P.M. to call out their demands for democracy and the end of the military-involved government.
Meanwhile, several cargo containers, water cannon trucks, barbed wire, and crowd control police were deployed in front of the Regiment, where its entrance was blocked by concrete barriers and barbed-wire fences along the road.
Protest front-liners and guards were reportedly trying to remove some of the containers and cut the barbed wires being installed along the fence. One protester was being hostile, according to local media.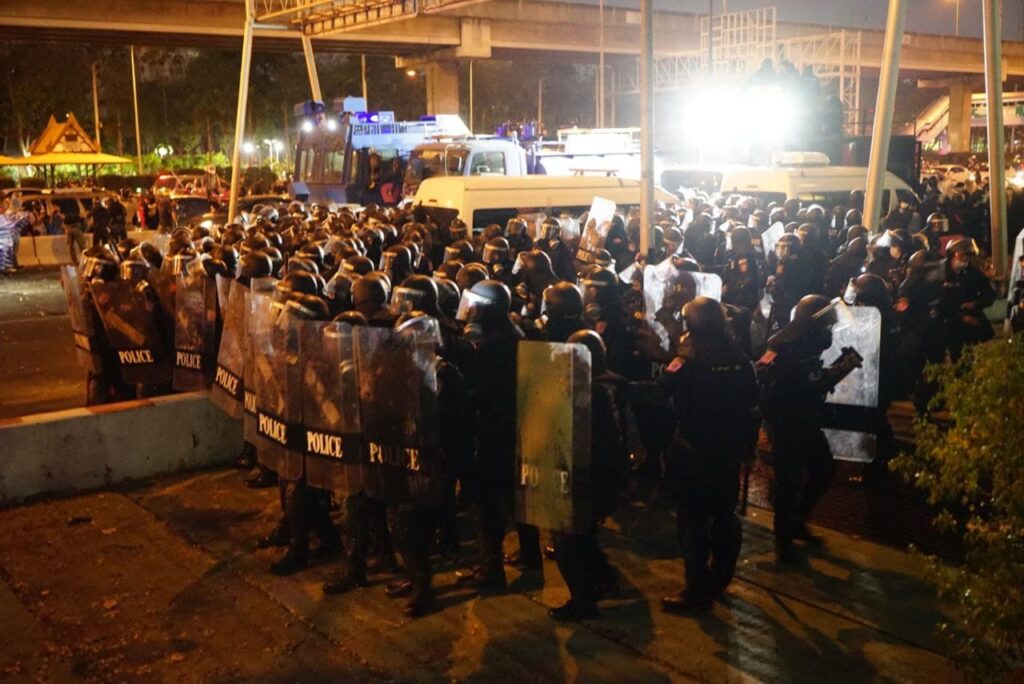 PHOTO: Prachatai
As of 6:35 P.M., a confrontation was also reported at the gathering site between police and protest front-liners. A water truck was brought closer to the site and heavy riot police with gear were deployed as the clash continued.
At 6:55 PM., a firecracker was reportedly being thrown at the police from the demonstrators' section, resulting in the use of a water cannon. It is unclear who exactly threw the firecracker at this time. A protester was also captured on camera reportedly being hit with an unknown projectile. One person was reportedly injured so far.
As of 7:05 P.M. both sides retreated with both sides calling for calm. Hundreds of police are blocking the path towards the Prime Minister's housing.
As of 7:30 P.M. water trucks appear to have retreated some as both sides appeal for calm.
Free Youth, the group that called the event, has called for an end to tonight's protest due to increasing tension. However, many people have not gone home as of 7:50 P.M.
8:45 P.M. Situation remains tense. On and off conflicts between law enforcement and protesters. Road blocks have reportedly been put up leaving some people unable to leave.
9:30 P.M. Law Enforcement, using tear gas and other crowd control devices have mostly dispersed protesters. Protest leaders have begged for more "Hardline" protesters to go home but appear to have been ignored. A tense situation with both sides blaming each other for the violence.
This is a developing story. The Pattaya News will provide more details as soon as we receive more information.