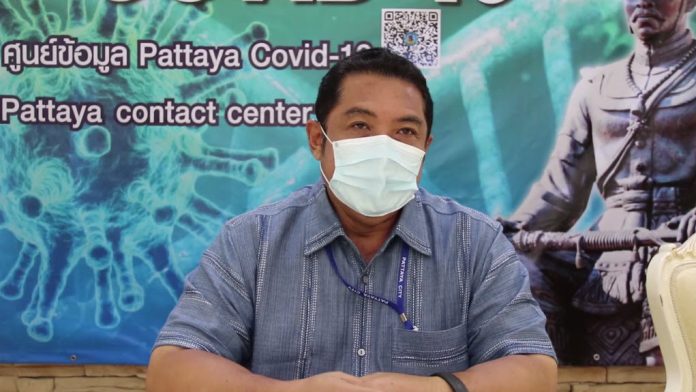 Pattaya, Thailand-
The Pattaya City Mayor, Sonthaya Khunplume, has asked Pattaya City business owners for patience in regards to later closing times, stating that he is well aware of how difficult the current time is for already devastated nightlife and entertainment venues.
This statement follows a similar statement from the Pattaya City Police Chief earlier this week who additionally stressed that the police didn't create the current rules but they would be enforcing them nightly. Under current restrictions to help control the potential spread of Covid-19, the Center for Covid-19 Situation Administration (CCSA) in Bangkok has assigned legal closing times to provinces based on a color-coded "risk" system.
  The closing time for Pattaya bars and nightlife is, as of press time, 11:00 P.M. Traditionally, Pattaya is a special administrative zone and the city leadership and Mayor have the ability to set their own hours, which has usually been until the very early hours of the morning depending on the part of the city. Pattaya is well known for tourism, nightlife, and entertainment and the special zone status allows them to stay open later than most of the country in order to attract tourists. Pattaya depends on tourism for about 80% of its GDP.
However, due to the emergency decree in place to control the Covid-19 coronavirus, Pattaya is currently under the jurisdiction of national laws and the CCSA rules. Traditionally, even the "set closing times" of 1:00 AM to 3:00 AM have been, at best, very loosely enforced and allowed to stay open later in principle due to the nature of the city as a nightlife-centric economy. Unfortunately, this hasn't been the case in the past week or so as police have been around nightly to the popular nightlife areas, firmly shutting popular venues sometimes even well before 11:00 P.M. Some of this stems from viral videos that went on national Thai television showing nightclubs open until much later than the legal time, angering some in other parts of the country or those in "red zones" like Bangkok, where nightlife is still legally closed due to the color-coding.
Business owners in Pattaya, meanwhile, have been pleading to city leaders to allow them to stay open until at least midnight, arguing that they have suffered enough with no foreign tourists allowed without a two-week quarantine for almost a year due to border closures and a recent second round of Covid-19 infections in Thailand closing entertainment venues for another month in addition to nearly four months last year. Thailand does not give wide-ranging financial support to those businesses affected by the ordered closures, although the Pattaya Mayor has stated the city is still looking into options. They also argue the early closure discourages domestic tourists to come to visit and that many local residents don't even like to go out for the night until past 10:00 P.M.
The Mayor says he understands the points of view of the cities large entertainment and hospitality industry and has asked for patience, but at this time has urged owners not to break the rules, even if it was widely accepted before, as it could cause the situation to last longer with early closing times. Many venues, The Pattaya News notes, have chosen not to open at all until later closing times are restored, saying they can't make a profit in the current environment.
On the bright side, the CCSA is set to review zone status colors and the situation around restrictions tomorrow at a proposal hearing, with a final meeting set for Monday, February 22nd. This is likely (but not guaranteed) to see Pattaya dropped to a "yellow" zone and allowed at least an additional hour for nightlife venues.